Destiny's Love Child? Jay Z Avoiding Paternity Test Over Alleged 21-Year-Old Son — Inside The Ugly Court Battle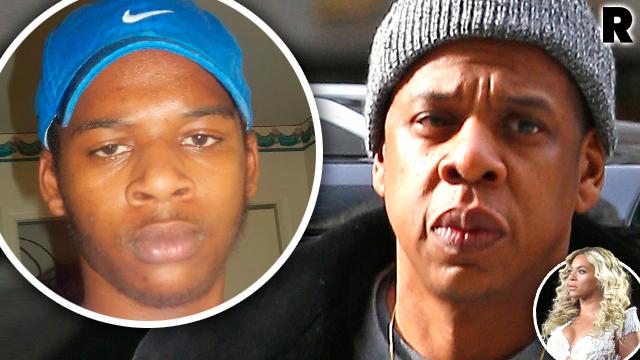 Music superstar Jay Z has been hit with a shocking claim that could potentially rock his marriage to wife Beyonce: According to court documents, he is currently tied up in an ugly legal battle with a man who claims he is the rapper's son!
The National ENQUIRER has uncovered explosive papers that show that Shawn Corey Carter was sued by 21-year-old Rymir Satterthwaite, an aspiring rapper, in 2014. Satterthwaite told a New Jersey court that his mother, Wanda, had a steamy affair with Jay Z in the 1990s, and that HOVA has done everything in his power to cover it up. According to the magazine, Satterthwaite, through his legal guardian – a paralegal name Lillie Colley – accused Blue Ivy's dad of lying to the court to avoid taking a paternity test.
Article continues below advertisement
In 2010, a judge dismissed a similar case in which Satterthwaite's mother tried to force Jay Z to submit the paternity test after another man turned out not to be the young man's father.
However, The ENQUIRER reports that the judge dismissed the case only because he ruled that his court lacked jurisdiction over Jay Z, and not because the court concluded that he was not Satterthwaite's biological father!
The dismissal of the case paved the road for Coley, Satterthwaite's guardian, to file the 2014 civil lawsuit.
In the papers, obtained by The ENQUIRER, Coley alleges that Jay Z and his lawyer, Lisa Fisher, provided "false" and "fraudulent" information to the judge, arguing that he lied to the court when claiming that he lived in New York and not in New Jersey, where he reportedly owns three houses.
The magazine, on newsstands now, also show that the 21-year-old alleged love child and his guardian argue that Jay Z lied by saying his legal residence was on Broadway in Manhattan, when in fact, the Broadway address that he supplied is not his home, but his office.
Article continues below advertisement
After examining photos of Jay Z and the a picture that The ENQUIRER took on Feb. 3 of Satterthwaite, Dr. Anthony Youn, a leading plastic surgeon, tells the magazine that the pair's similar features could suggest that Jay Z is his biological father.
"Their facial structures appear very similar ! It could be a sign of inheritance," says Youn.
Although a spokesperson for Jay Z did not return The ENQUIRER's request for comment, the magazine points out that Satterthwaite "has been struggling to pay college and medical bills, as he said on his website – all while dealing with the trauma of profound rejection."
This will be the second case in which the rapper is accused of fathering a child outside of wedlock. In 2011, Jay Z reportedly paid model Shanelle Scott $1 million in return for keeping his name off of a birth certificate of a son that she claimed he fathered 13 years prior.
Story developing.