Exclusive
Wardrobe Malfunction! 'Unhappy' Reality Diva Teresa Giudice Assigned To Prison Laundry Job — 'Not Her First Choice'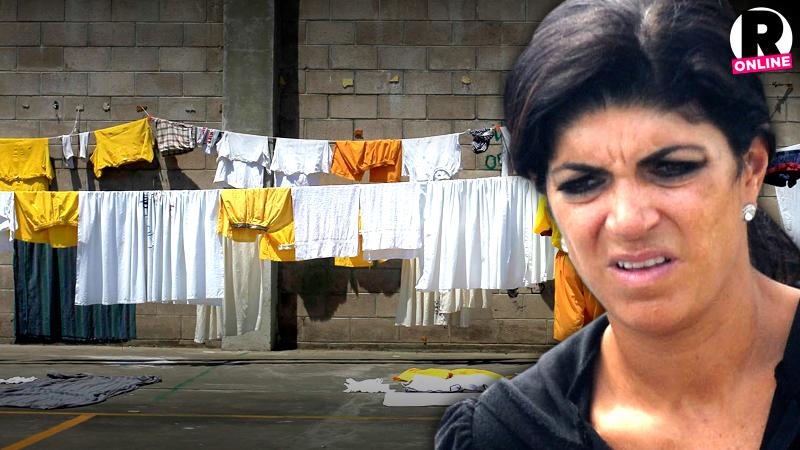 Teresa is cleaning up her act — and all her fellow inmates dirty clothes!
RadarOnline.com can exclusively reveal that the Real Housewives of New Jersey has gone from airing her dirty laundry on the show to spin cycle duty behind bars thanks to her new job in the laundry department of the Danbury Federal Correctional Institute in Connecticut.
"It was definitely not her first choice," a prison insider dishes to Radar. "Teresa was unhappy when she found out the assignment because she thinks it's disgusting work to have to do."
Article continues below advertisement
Instead, Giudice had her eye on landing one of the more "coveted" positions behind bars. "She really was hoping that they would let her work in the kitchen," reveals the insider. "She wanted to be able to cook for everyone."
Unfortunately, Giudice, who recently came out with the cookbook, Fabulicious!, has to "work her way up to that job," continues the insider.
As Radar reported, Giudice, who will be doing the wash for around 200 inmates, will literally be earning pennies in her new position.
The convicted felon will receive anywhere from 12¢ to 40¢ per hour while incarcerated for the next 13 months on bank fraud charges.
But according to the Bureau of Prisons, 42-year-old Giudice could really rake in the dough if she scores a job with one of the Federal Prison Industry's factories. However, only around 16% of work-eligible inmates are allowed to do this work, in which "they gain marketable job skills while working in factory operations, such as metals, furniture, electronics, textiles, and graphic arts."
If Giudice does land one of the gigs that require a high school diploma or GED, she's in for a pay raise and will earn anywhere from 23¢ to $1.15 per hour.