Teresa Giudice's Dramatic First Week Behind Bars – She Sits On The 'Gross' Toilet Seat And Is Crying Herself To Sleep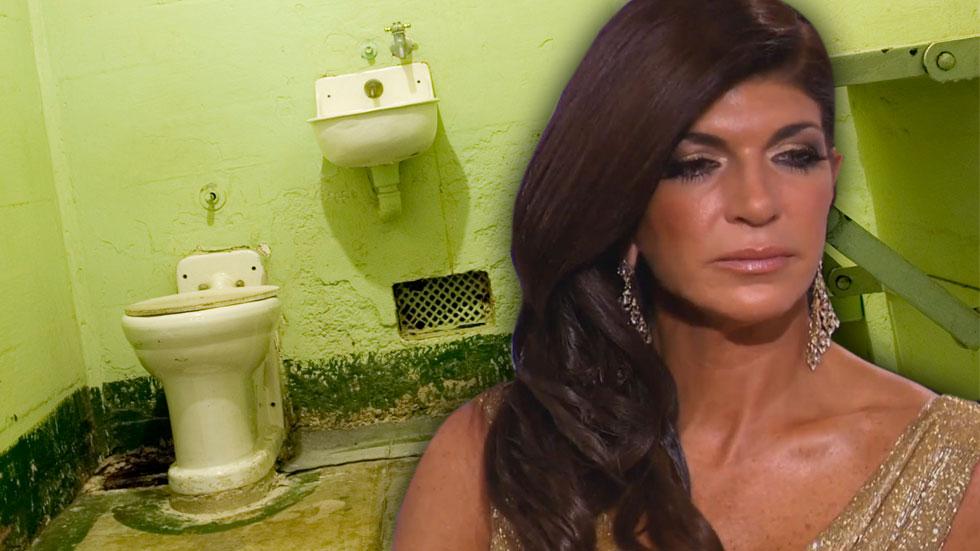 Teresa Giudice is crying herself to sleep, getting special meal-time privileges and grossing out the other inmates by sitting on her prison cell toilet in and that's only in her week behind bars!
The Real Housewives of New Jersey star began her 15-month sentence on January 5 at the Danbury Federal prison and according to new reports she's become a target for the other inmates.
"Someone left and old magazine with her on the cover on a table where she could see it. It was mean spirited," a source told Us Weekly magazine.
Article continues below advertisement
"The magazines with her face on them are all over the place."
Now that she's been forced to remove her extensions and isn't slathering on makeup, she is a far cry from the Bravolebrity in a ball gown.
"They can't believe she looks so different in real life," a source told Us Weekly about Giudice's appearance.
While she was lucky enough to score a top bunk, a source told In Touch magazine that her behind bars bathroom habits are revolting.
"Teresa actually sits on the toilets and they're gross! Inmates do not touch their butts to them, but she does and it's the talk of the prison."
Juicy Joe Giudice's wife is garnering a lot of unwanted attention.
"The vultures who want to be her bestie were all over her," Us Weekly reported.
"One inmate with waist length dreadlocks even tried to become her 'protector,' but Teresa sort of ignored it."
But she's not completely isolated either.
"Turns out one of Teresa's cellmates is friends with her pal Renee Graziano from Mob Wives," In Touch reported, and she's meeting new people too.
"Teresa even found a personal trainer - an inmate who teaches classes - so she's been working out every day," the magazine claims.
However, sources tell In Touch that Giudice needs to be careful.
"She knows to watch her back," In Touch reported.
"She's been cautioned that some of these women might be nice in the beginning - but they like to instigate trouble."