Suge Knight Arrested On Suspicion Of Murder After Police Say He Ran Over 2 Men, Killing 1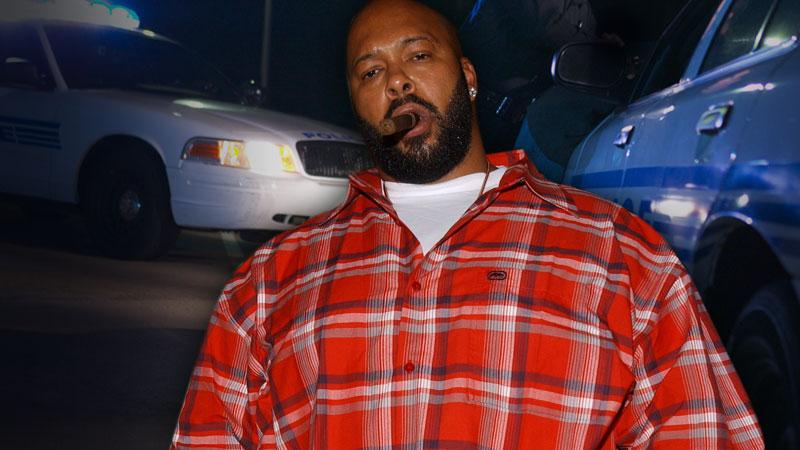 Suge Knight was arrested on suspicion of murder Friday, after a Thursday incident in which he allegedly ran over two people on the Straight Outta Compton set, killing one.
The rap executive was held on $2 million bail, the Los Angles Times reported. He turned himself into authorities early Friday after police dubbed him a person of interest in a "vehicle versus pedestrian" incident in Compton, Calif. during a shoot for the upcoming Universal movie Straight Outta Compton, documenting the rap group N.W.A.
Article continues below advertisement
Knight was officially arrested after the interview with detectives wrapped up at around 3:30 a.m., his lawyer James E. Blatt told the paper.
Authorities said Knight got into an argument with two men on the set Thursday at 3 p.m. PT. About 20 minutes later, the two men were in the parking lot of a Tam's Burgers (near the intersection of Rosecrans and Central avenues) when the 49-year-old rap executive is believed to have ran them over in his red Ford F-150 Raptor.
Knight struck the men in his truck, then backed over their bodies, before fleeing the parking lot, eyewitness told police. Terry Carter, 55, died at the scene, while another 51-year-old man was injured in the attack, according to online reports.
Officials said the incident is under investigation as a homicide, not a traffic accident, as Los Angeles County Sheriff's Department Lt. John Corina said that "the act appears to be intentional,"and that Knight "intended to run those people over."
Article continues below advertisement
"I am positive Mr. Knight will be exonerated by Tuesday," Knight's lawyer Blatt told the paper. He said that Knight was being attacked by a group and accidentally ran the two men over while he tried to escape.
"Investigators are still interviewing witnesses,"the lawyer said, "and still need to see video of the incident."
Knight's reps told the paper that he had no comment about the situation.
Stars such as Dr. Dre, The Game and Ice Cube were on the set, with the latter posting a pic to his Instagram before the deadly run-in. None of them were at the restaurant when the indent occurred, sources told The Wrap.
http://instagram.com/p/yc9gIATOqh/?modal=true
Knight has a long storied history of arrests and violent incidents. Most recently, arrested in October after police aid he stole a camera from a paparazzi photographer. Last August, he was shot six times in Los Angeles during a party Chris Brown threw at the club 1Oak for the MTV Video Music Awards. No arrests have been made in that incident.
Watch Video On RadarOnline.com