Exclusive
He Needs Help! Kim Kardashian Tells Sister Kourtney To Do An Intervention For Party Monster Scott Disick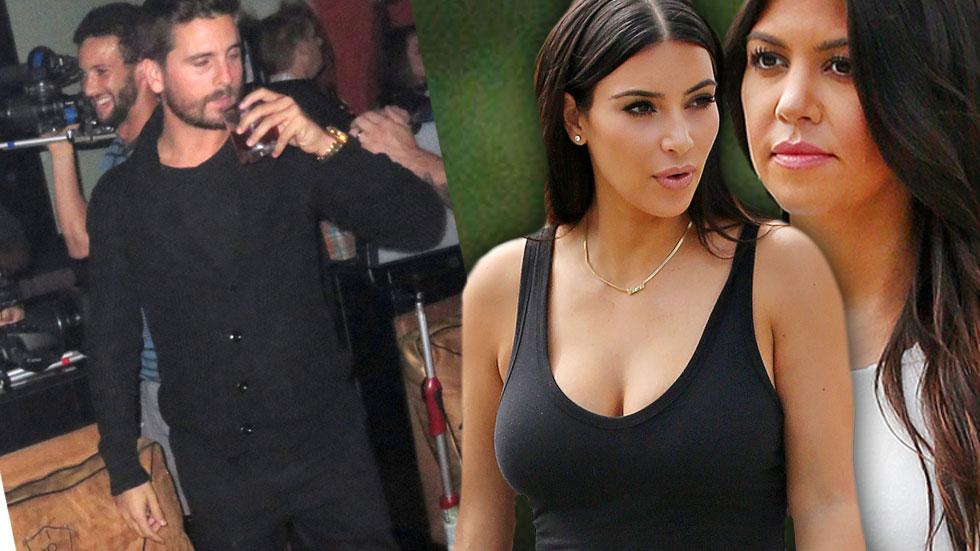 The party's over! Scott Disick's wild ways are threatening to take down the entire Kardashian empire, at least according to Kim Kardashian, and RadarOnline.com has learned that she is pressuring sister Kourtney to do an intervention.
"Kim has told Kourtney that she should do an intervention for Scott," a source close to the situation told Radar. "She said that he seems to be getting crazier and crazier."
Article continues below advertisement
And according to Kim, he could hurt the family where it really counts — in their bank accounts.
"Kim thinks he's going to really hurt the family because people aren't going to want to hire him and that will hurt them financially," the source said. "Kim told Kourtney that they can't afford to have Scott not bringing in money too, and she said that her sister can't do everything on her own now that they have three children."
There seems to be no end in sight for Lord Scott's outrageous lifestyle, and even though he was hospitalized for alcohol poisoning last summer and entered rehab to kick the habit, Kim wants Kourtney to act quickly.
"Kim believes that Kourtney has to think of her children first and their future. She wants her sister to do an intervention to save her family now and not let him continue to spiral out of control," the source said.
"It is always about money for Kim, and she is trying to make Kourtney understand that she has to think responsibly about the future. That means stopping Scott from partying so that he can be a productive member of the family."