'She Came In Trying To Destroy Me': Atlanta Housewife Porsha Williams Rages At New Costar Claudia Jordan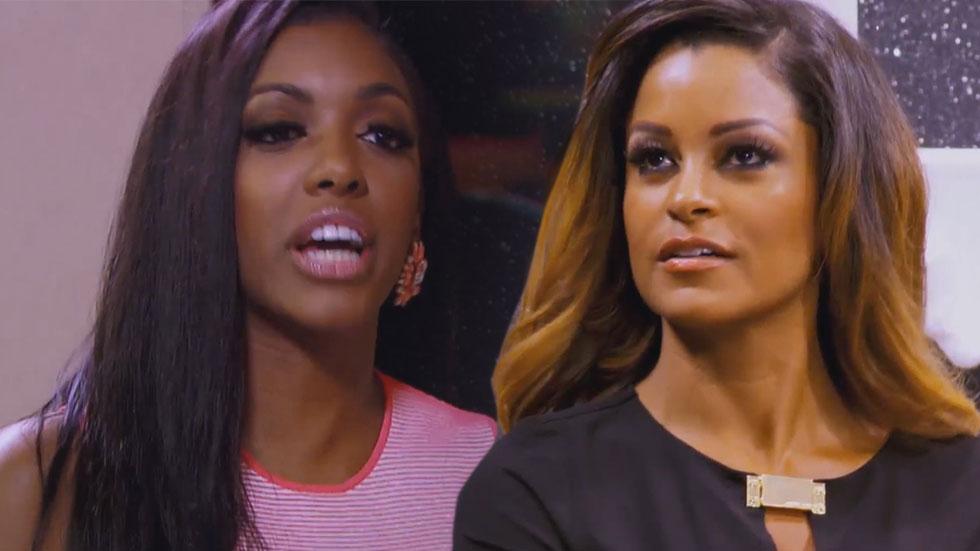 In a previous episode of the Real Housewives of Atlanta, Claudia Jordan openly attacked Porsha Williams, accusing her of dating a married African man.
Well, Williams wasn't too fond of Jordan talking about her "rumored" relationship on camera.
"I felt like she should have been ashamed of herself," Williams told RadarOnline.com exclusively. "Claudia and I have never discussed any boyfriend or anyone who I've been with. She does know who I've dated, never has.
Article continues below advertisement
"I felt like for her to sit there and tell a lie as if it was a fact, that was very wrong."
The Peach state beauty said Jordan's actions struck her as two-faced.
"She said she wanted to have a relationship with me, and 'Let's move forward,' and get to know me outside of Kenya -- then why are you attacking me in the same way?" Jordan asked. "So I was completely baffled when I saw that was what she was trying to do."
Williams felt like Jordan was out to get her.
"She's definitely trying to assassinate my character," she said. "I just don't understand where the obsession comes from, at all."
For the past year, Williams has dealt with the rumors that she is dating a married man, but she maintained that she was not having the affair.
"There is no African dictator," she said. "No, I do not have an African prince. He's nowhere to be found. If I had an African prince, trust me, I wouldn't be waking up at 6:00 in the morning working hard as hell.
Article continues below advertisement
"An African man is a great man to have, but another woman's husband is not," Williams continued. "So I definitely don't appreciate people trying to tear down my character like that."
While Williams isn't dating a married man, she did recently meet someone.
"My girlfriend recently linked me with someone that I'm actually really excited about," she said. "It's brand new. We just met, but he's very successful and he's single and I hope he's ready to settle down one day because that is what I am looking for -- it's kind of a whirlwind romance right now!"
Williams said she doesn't "really know what's going to come out of it," but is "just enjoying someone that appreciates me and someone that I can get to know that I'm really attracted to."
Williams, who was formerly married to NFL quarterback Kordell Stewart, added that she's looking for the full package in a boyfriend.
"Number one, I'm looking for a man who is definitely God-fearing for sure," she said. "I do want him to have some level of success so that he won't be intimidated by all the things that I'm doing.
Article continues below advertisement
"I want him to want to be a power couple. I want him to want to do things with me and try to be that example, the second go around for me. And I just want love."
But as far as her friendship with Jordan, Williams wasn't as optimistic about that relationship working out as she was about finding love again.
"It's difficult because as we went through the season, I did find a place where I could forgive her because she does end up apologizing," she said. "But when I saw that she had actually planned to plant these seeds of me being with a married man, and start that lie to assassinate my character, even from sitting down with Kandi for the first time, that's when I realized that she came in trying to destroy me."
"So all of the middle where she was acting like she was my friend, I realize now that all of that was fake," Williams concluded. "It's hard for me to interact with her in a genuine way now, so I just don't."