Exclusive
Bullied! Bigoted Duggar Family Has 'Endured Vicious Ridicule,' Pal Mike Huckabee Claims In New Tell-All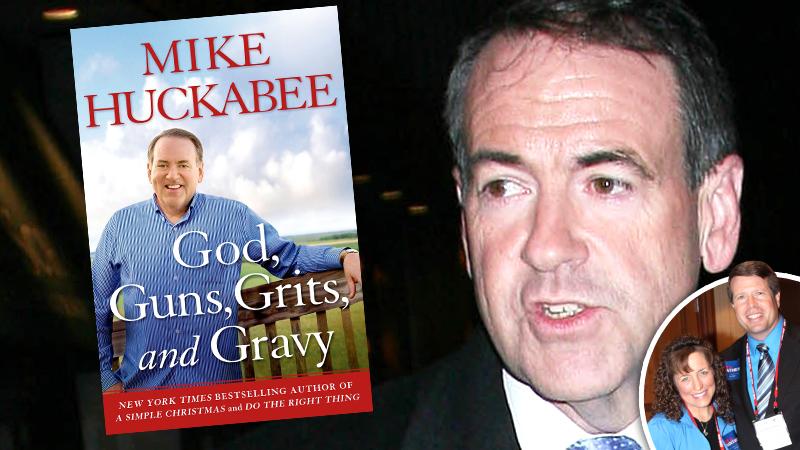 The Duggar clan, often led by right-wing activist son Josh, has a long history of fighting same-sex marriage and other LGBT rights. But according to onetime Republican presidential candidate and close family friend Mike Huckabee, the Christian reality TV stars are the ones being bullied.
In his new book God, Guns, Grits, and Gravy, the former Arkansas governor calls Jim Bob and Michelle's 19 children "every parent's dream" in their "attitudes toward each other, their parents, and their chores."
Article continues below advertisement
"I've marveled at the exemplary manners and behavior of all their children," Huckabee raves.
Despite Josh, Jana, Jessa, Jill and the others' allegedly angelic behavior, the siblings "have endured relentless and vicious ridicule from the snobby and snotty sophisticates," the 59-year-old politician claims.
These purported bullies "exemplify their own jealousy of how well behaved the Duggar kids are compared to the little hellions and yuppie larvae created by the critics of the Duggars."
The Arkansas-raised brood has faced their fair share of fan backlash in recent months. In November, nearly 200,000 people signed a Change.org petition calling for TLC to take the Duggars' show, 19 Kids And Counting, off the air.
But the petition signers were certainly provoked. Over the summer, Michelle claimed transgender individuals "endanger" and "traumatize" children in a recorded message campaigning against an anti-discrimination bill in Arkansas. In November, the family deleted photos of same-sex couples kissing from their official Facebook page after they called for married couples to share their passionate lip locks.
Article continues below advertisement
Later that month, Josh led an anti-gay marriage rally in the family's home state. The 26-year-old father of four serves as the executive director of the Family Research Council Action, an organization labeled a "hate group" by the Southern Poverty Law Center.
"The Duggars have been using their fame to promote discrimination, hate, and fear-mongering against gays and transgendered people," petition organizer Jim Wissick writes.
Do you think the Duggars are really victims of bullying? Sound off in the comments.