Exclusive
Are They Next? Melissa & Joe Gorga Cut Back Spending Over Fears Government Targeting Them After Giudice Bust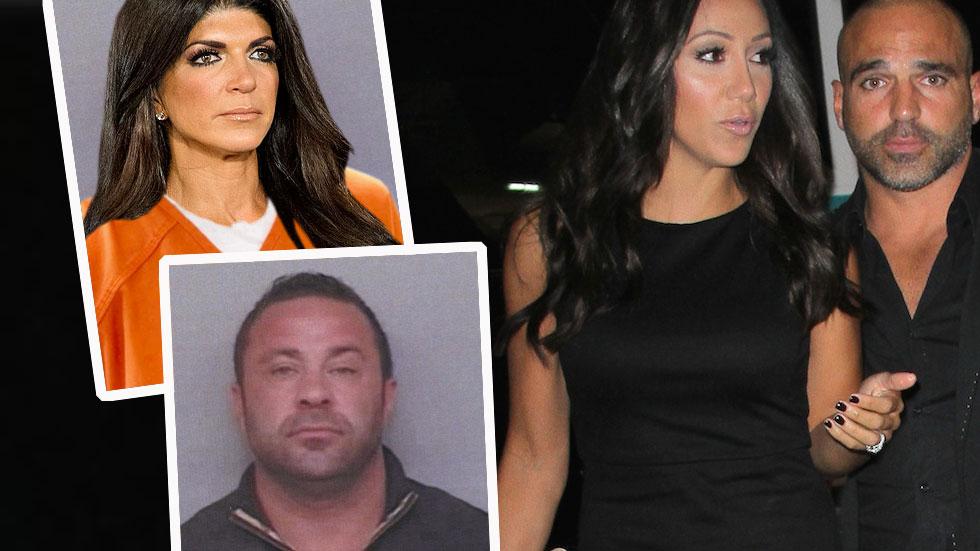 Teresa and Joe Giudice's prison sentences didn't just mean a lifestyle change for their family. RadarOnline.com has learned that ever since the legal crackdown, Teresa's brother Joe Gorga and his wife Melissa have cut back their spending because they fear that they could be next!
"The Gorgas are in the same business as the Giudices," a source close to the Real Housewives of New Jersey stars tells RadarOnline.com. "So that's really hitting close to home."
Article continues below advertisement
"There's a fear: could the government come after them?" the source says. "Could the government be looking at them now and start digging into their books? That's a scary thought."
Though the Gorgas have nothing to hide and their books are clean, the couple want to avoid any hassle and are cutting back on conspicuous consumption, according to the source.
"Melissa has been kinder, a little bit more down to earth and really about her family," the source says. "Before, Melissa really put an importance on material possessions and she's not doing that as much anymore."
"You're talking about a girl who in her twenties had a dog named Gucci, was driving around in a Mercedes, and didn't even have a pot to piss in," the source continues. "That's just how Melissa was. Now, you don't see her like that anymore."
"Teresa's fate hit Melissa very hard, and it's a real eye opener," the source continued. "It puts things in perspective that material things are not as important. It really knocked her into reality a little bit more."
"Joe Gorga has just been quiet lately too," the source says. "He's not really out in anyone's face and is just kind of chill. He has been low key, which is not normal for Joe because Joe is always trying to put on a show for everybody."
The Gorgas have taken a bite of "humble pie," the source says.
"When you see something happen to someone who is so idolized for material wealth and makes a show of it, then you realize that doesn't really matter," another insider says. "What matters is you wanting to be with your children. It's sobering for everybody who knows Teresa."