Exclusive
Big Mouth! Kardashian Family Livid Kim Broke 'Code Of Silence' Over Bruce Jenner's Transformation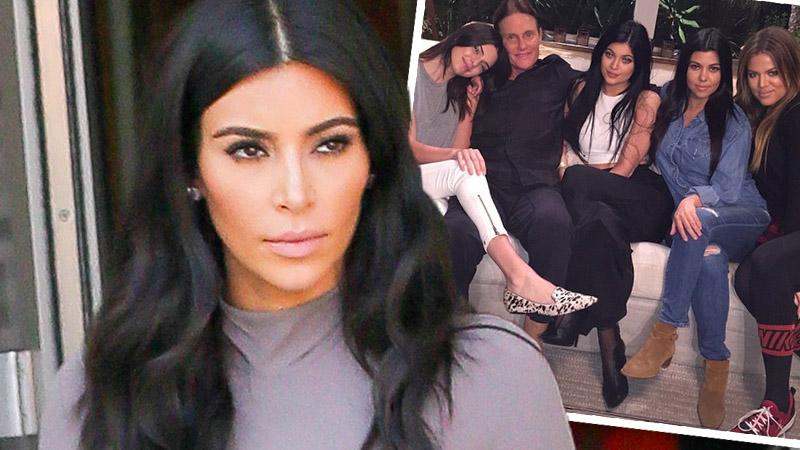 To Kim Kardashian, no publicity is bad publicity. But after the reality star spoke out to the media about her step-father Bruce Jenner's transformation, RadarOnline.com has learned, her family is furious.
A Kardashian family insider tells RadarOnline.com exclusively, "Kim has broken the trust of her family, including all of her sisters, brothers and father."
"Kendall and Kylie are really upset about it because they are Bruce's biological daughters, but Bruce is definitely 'dad' to Kourtney and Khloe too," the source says.
Article continues below advertisement
When asked about Bruce's rumored transformation during an interview that aired Monday on Entertainment Tonight, the wife of Kanye West, 37, and mother of North West, 1, told host Kevin Frazier, "We all support Bruce no matter what. I think everyone goes through things in life, and I think that story and what Bruce is going through, I think he'll share whenever the time is right. I feel like that's his journey to talk about."
According to the source, Kardashian's statement caused yet another feud to erupt within her already crumbling family. "All of her sisters totally agree that Kim was out of line and think what she said to ET was completely inappropriate. The worst part is that she didn't even run it by her family first. She was trying to sell her own brand and her family feels like she was using Bruce as a pawn to get more famous," the source explained.
Article continues below advertisement
As RadarOnline.com reported, it is not only her female family members that are fuming over her admission. A source said that her step-brother, Brody Jenner, 31, is upset as well. "Brody wishes Kim wouldn't have said anything more than that Bruce is doing great," the source previously said. "This is a very sensitive time for Bruce and everyone involved."
"There are some things that the family does not discuss with the public and that was number one," the source continued. "That topic was off limits and Kim knew that. She completely broke the code of silence."
Do you think that Kim Kardashian speaking about Bruce Jenner's transformation was unfair or no big deal? Let us know in the comments!