Exclusive
Faking Family! Body Language Expert Claims Kim 'Doesn't Want To Show Any Connection' To Bruce In Awkward Family Snap — Who Else Is All For Show?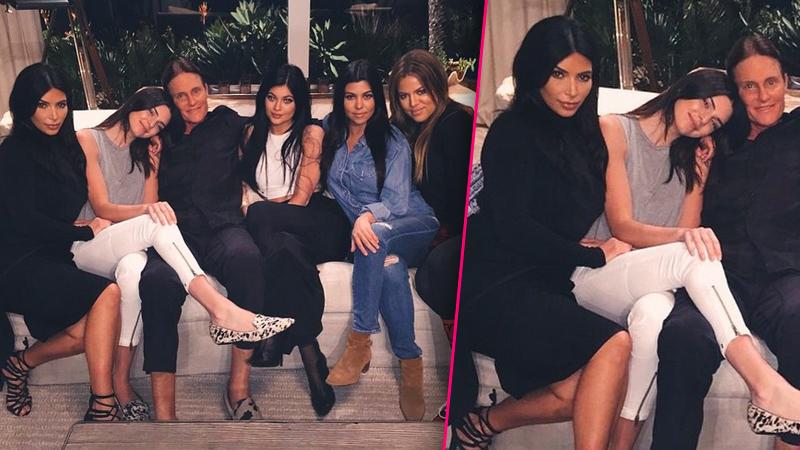 Bruce Jenner's daughters and stepdaughters rallied around him for a family photo on Monday, amid new rumors of his transformation. But a body language expert tells RadarOnline.com exclusively that they weren't all authentic about their support: According to the expert, Kim Kardashian appears she "doesn't want to show any connection or affection to him!"
"Kim is all about the pose in this photo," says body language expert Patti Wood, MA, CSP, referring to the photo taken Monday of Bruce with daughters Kylie, 17, and Kendall Jenner, 19, as well as his step-daughters Kim, 34, Kourtney, 35, and Khloe Kardashian, 30.
Article continues below advertisement
"There is really no connection to anyone in the group from Kim. There is no lean towards any of them. Kim is straight up and down," says Wood.
"The rest of the people on the couch don't even matter to Kim. You could literally cut everyone else out of this photo and you wouldn't even know they were there."
However, it wasn't only Kim that made this Keeping up with the Kardashians family portrait awkward, but Kourtney and Khloe as well.
"Kourtney's gaze, like Kim's, is for the camera. Also, her hands and legs show that this is just for the photo and it is not how she really feels," says Wood. "Because of her pose, it is clear Kourtney wants to be seen as her own person."
"Khloe is dong the most out of the three Kardashian girls to show the effort to be included. However, she is very protected. Her body language shows that she is not comfortable and at ease," Wood tells RadarOnline.com.
Article continues below advertisement
Not everyone looks like they are faking their affection, however. According to Wood, Kendall and Kylie appear to truly love and support their dad, and it shows in his face.
"Bruce's smile is natural and his gaze is very warm. There is no tension. He is accepting the affection that he is getting," she says.
"Kendall looks so relaxed. There is no tension at all. What is interesting is that she has her legs crossed towards her dad and away from Kim. She is using her leg as wall between her and Kim and uses her arm to make a double wall. Kendall feels the and her father from Kim."
'Kylie, on the other hand, has a mixed expression," says Wood, who is the author of author of Snap: Making The Most of First Impressions Body Language and Charisma.
"She has a lot of tension in this pose, which she is trying to suppress. She has a little need to connect and protect her dad. But I think it is very interesting that her arms and shoulders are cradled in to protect herself."
Do you think that Kim Kardashian faked it for the sake of the rest of her sisters? Let us know in the comments.