Exclusive
Meow! Kathy Griffin & Kelly Osbourne's Secret 'Fashion Police' Fight Revealed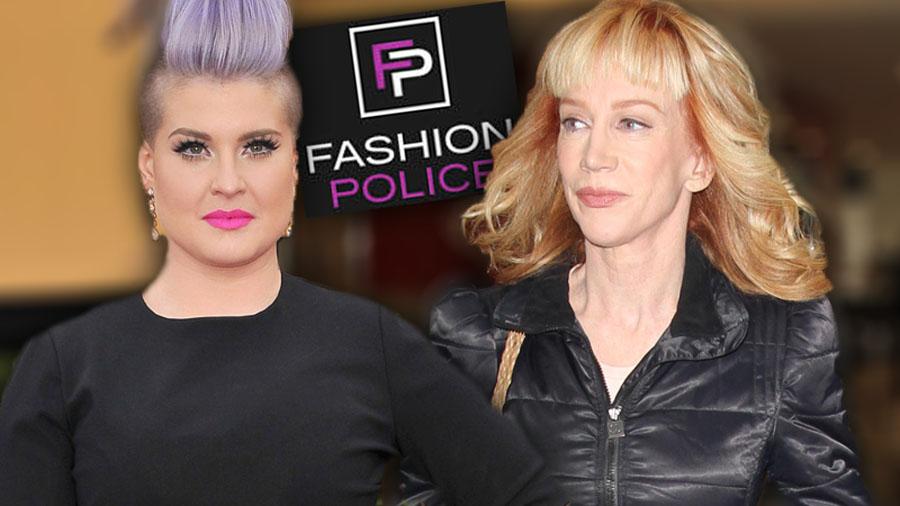 Kathy Griffin has gotten a lot of heat since taking over as the co-host on Fashion Police and, according to a source close to Griffin, much of the drama surrounding the red-headed comedienne's current position is coming from none other than veteran co-host, Kelly Osbourne!
"Kathy has known the Osbournes for a very long time and, although they do not hate each other, there is a ton of tension between them right now," a source close to Griffin tells RadarOnline.com exclusively.
Article continues below advertisement
Following the untimely passing of Joan Rivers, who died on Sept. 4 at age 81 from complications during a routine medical procedure, Griffin was hand-selected by her daughter, executive-producer Melissa Rivers, 47, to fill the role.
Since then, Life & Style recently reported, Griffin and Osbourne's relationship has gone downhill. And an insider tells RadarOnline.com that it's worse than anyone knows.
"After Joan died, Kelly truly thought that she was going to be the face of Fashion Police. But then when it became known that Joan would only want Kathy to fill her shoes, Kelly was hurt."
"Word got back to Kathy that Kelly did not approve of this decision, nor did she agree with the salary arrangement. So instead of beating around the bush, Kathy simply confronted her about it," says the source close to Griffin, 54.
"Of course Kelly denied that she has any hard feelings, because she is scared of losing her job, but Kathy is just that kind of person. She does not allow drama in her life."
Article continues below advertisement
According to the insider, "Kelly would have it out for anyone that would have been Joan's replacement, but Kathy seems to really be getting the brunt of it."
"Kathy says what she wants to say and doesn't care about people's opinions of her. On the other hand, Kelly is overly concerned with what people think," the source claims.
"Kelly and Joan had their fair share of arguments behind-the-scenes of the show and often, it carried over onto on-camera," the insider reveals, referring to the weekly talk show on E! that is also hosted by Brad Goreski, 34, and Giuliana Rancic, 40.
"However, Kathy and Joan never had anything but laughs together and they respected each other's work greatly, which is why she was chosen to fill Joan's position."
Do you think that Kathy Griffin makes a better co-host of Fashion Police than Kelly Osbourne? Let us know in the comments below.