Exclusive
Under Attack! Leaked Government Reports Reveal Shocking Security Breaches At Pentagon -- Headquarters Of Our Department of Defense!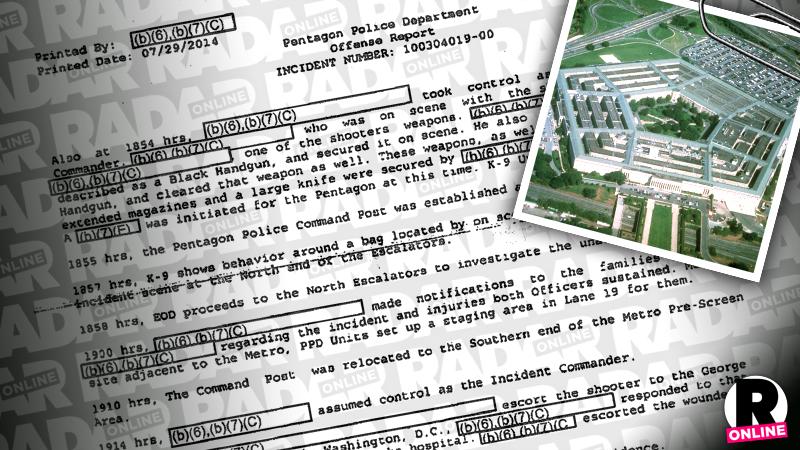 Crazed terrorists continually target the Pentagon in Arlington County, Va., but the embattled building has suffered humiliating security breaches over the past several years, RadarOnline.com has exclusively learned from leaked government documents.
Incredibly, the Pentagon, which is the headquarters of the U.S. Department of Defense, remains exposed long after Americans lost their lives in the 9/11 terrorist attacks.
Article continues below advertisement
Private reports obtained by RadarOnline.com from the Pentagon Force Protection Agency -- through a Freedom of Information request -- reveal several unsettling security breaches between 2001 and 2014.
In a 2008 incident, a man penetrated the Pentagon by simply following visitors through turnstiles at the entrance of the Pentagon Metro subway stop. He explored unsecured hallways for an hour before an officer noticed and told him to leave. The officer did not bother to escort the man out, however — and the trespasser was later discovered wandering a Pentagon parking lot.
These security lapses became more troubling after the events of March 4, 2010, when deranged gunman John Patrick Bedell wounded two officers at a Pentagon security checkpoint.
In 2012, a couple looking for a motorcycle rally at the Pentagon strolled into a secure trailer without authorization.
"I asked whether or not they had Pentagon Building Badges, to which they stated that they did not," reads an officer's report obtained by RadarOnline.com.
"I then questioned how they were able to enter the Pedestrian Trailer without building badges...The couple stated that they simply opened the door and were able to access inside."
Details of the sporadic security breaches are especially concerning since even as recently as September 2014 the Secret Service allowed veteran Omar J. Gonzalez to rampage deep into the White House while armed with a knife.