Exclusive
Fight To Save Kylie! Bruce & Kris Jenner Face Off Over 17-Year-Old Daughter Kylie Jenner's Boob Job & Racy Photos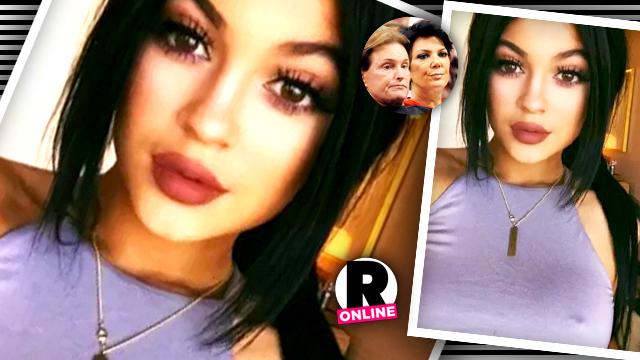 Kylie Jenner is following in the footsteps of her older siblings by posting racy photos of her suspiciously plumped-up new features. But RadarOnline.com has learned that her dad, Bruce Jenner, is not pleased about the 17-year-old's new look — and he thinks her mom Kris Jenner is to blame!
In the latest R-rated round of Kylie's obvious image rehaul, she recently posted yet another cleavage-bearing selfie showing off an apparent nipple ring. She deleted it shortly after, but insiders tell RadarOnline.com that it wasn't Kylie's decision to remove the racy photo. Instead, her father, Bruce Jenner, 65, forced her to take it down!
Article continues below advertisement
"Bruce let Kylie have it after he saw that photo of her nipple ring posted," a family insider says. "He told her that she is not an adult and needs to stop acting like she is some sex goddess."
"It is no secret that Kylie has had her boobs done. Kris will do anything to allow her daughters to be as plastic as she is," the source adds. Daughter Kourtney has admitted to having a boob job, and Kim famously made millions showing off her curves in a sex tape.
MORE ON:
Keeping Up With the Kardashians
But according to the source, Kylie is Bruce's daughter too, and "he will not stand for it."
Following Bruce's divorce from his wife of 23-years, Kris, Kylie "poured herself into her music," as RadarOnline.com reported, but lately it seems that the underage reality star is pouring herself into revealing tops to impress her rumored 25-year-old bad-boy rapper boyfriend, Tyga.
"Kylie does not realize that the message she is sending out to her young fans around the world is that it is okay to change how you look and that plastic surgery is an option for everyone," the source says."Unfortunately, she will do just about anything to fit into the mold of what America thinks is sexy."
Do you think Kylie's parents should stop her from posting sexy shots? Let us know in the comments!