No Prison Fights & No Fraud? Teresa Giudice's Bizarre New Year's Resolution Revealed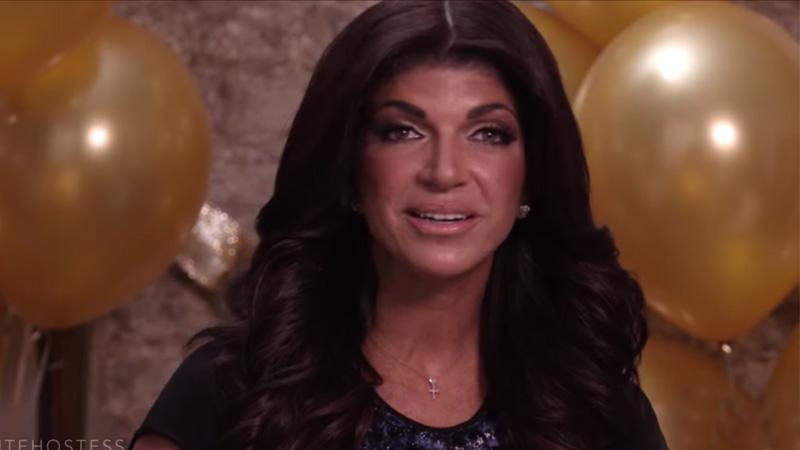 Teresa Giudice and Dina Manzo teamed up to reveal their New Year's resolutions in an online video.
Giudice may have a hard time with her list this year since she is required to report to prison on Jan. 5 for bankruptcy, mail and wire fraud. However, the Real Housewives of New Jersey star gamely soldiered on. "Going forward, I would like to stop eating bad carbs," reveals Giudice, 42.
Manzo likes that idea a lot, and she says that her "number one thing" to do this year is "simplify" because she has "a lot of stuff."
Article continues below advertisement
Giudice confesses that she's been doing that already.
Manzo, 43, then says she'd "like to build an ass."
Of course, Giudice would too.
And Manzo also wants to be "more spontaneous" in 2015. An example? If she feels like going away last minute, then she will.
That will be a bit tougher for Giudice since she will be under lock and key, but she gamely tells her friend that she should try to accomplish her goal. Giudice excuses herself from that resolution since she has four little ones at home. The awkward moment results in nervous giggling and looks.
Giudice recovers and says her next big goal is to "keep the negative out" and surround herself with positive people that make her happy.
"Let's not let life get in the way and let's spend more time together this year," responds Manzo, who will have to visit Giudice in prison to keep that promise.
"I love that," Giudice gushes.
Watch The Video On RadarOnline.com
What do you think of Teresa and Dina's resolutions for 2015? What are your goals this year? Tell us in the comments.