Jamba Juice Healthy Living Council Member Summer Sanders Looks Back, Forward In New Q&A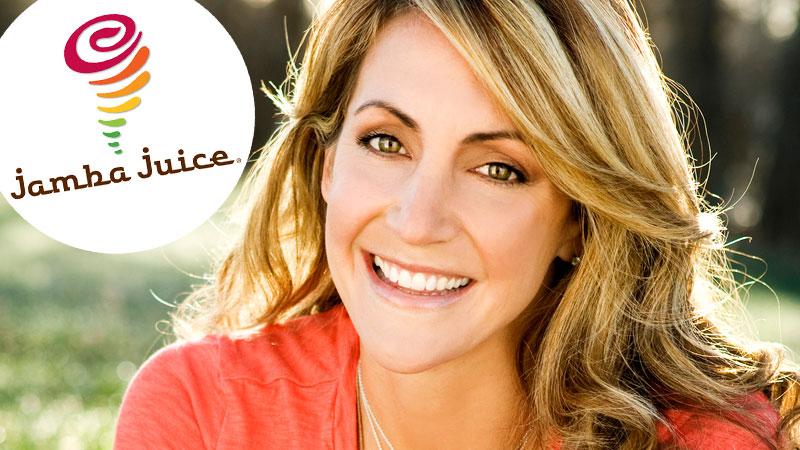 From her time working for "The Donald," to her ongoing charity efforts, to her service as on Jamba Juice's Healthy Living Council, Olympian Summer Sanders opens up about a variety of topics in this Q&A, right here on RadarOnline.com.
You competed on Season 3 of Celebrity Apprentice and they just announced the new cast. How do you feel about the new mix of people?
I love them! I obviously love my athletes, Shawn Johnson and Jamie Anderson, that will compete this season. I was actually just with the hair and makeup people from Celebrity Apprentice working on a different job and, of course, they can't talk about anything yet, but they did say it was extremely difficult to keep Jamie Anderson from going outside and doing sports during down time. She would disappear and would come back all sweaty and they would have to get her all ready again. People also wonder why athletes don't do well on the show, and I wish I would have said this when I was on, but we are programmed to take responsibility for our actions. We don't blame our performance on somebody else; we blame it on ourselves and we figure out how to get better and that's how we progress in our sport. When you go on celebrity apprentice, the first thing you're not suppose to do is blame yourself. It's totally out of the norm for us and I found that to be the hardest thing. But I think Shawn Johnson is going to be amazing. Although she's petite, she's fierce, strong and smart. I would never count her out. She can do flips over anybody.
Article continues below advertisement
You competed against celebrities like Sharon Osbourne, Cyndi Lauper and Bret Michaels. What was that experience like for you?
At that time in my life, my kids, Skye and Robert, were about 2 and 3 years old, so I was knee-deep in mommyhood. For me, it was a great departure from my every day routine of poopy diapers and awesome giggles. The fact that I got to go in and challenge myself and do something like throw together a commercial in 12 hours was so much fun. It was intense, but fun. My mom came with me and we had every Sunday off, so Sunday I was mom all day. I was trying to do a little big of everything. But, fast forward to when the season actually debuted, watching it was a whole different ball game. They reversed orders of things or threw in a quote from a different situation to make the drama more exciting. So it was really hard to watch it when you're like, "Oh, no! They're just trying to make me look bad," or, "They're trying to make my friend look bad." I don't have the skin for it, so that was the hardest part. But it was 100% worth it for me to be able to talk about my charity, Right To Play, on television.
Can you tell me about your charity, Right To Play?
It was started by Olympic speed skater Johann Olav Koss, and he's really cornered sport for development and introduced that into the humanitarian world. It's about bringing sports and play to developing countries and children who have been affected by war. We are touching a million kids; a million kids go through our program every single week in 23 different countries. We're right in there in the thick of refugee camps and we teach them about health, conflict resolution, inclusion. It's specific to the area where they are and 't sustainable. We bring in older kids, or young adults, to be the leaders to teach them. I was just in Rwanda, which is a huge success story. The government there loves Right To Play so much that it's implemented into every one of their curriculums. Every teacher in Rwanda has to learn the Right To Play curriculum to become a teacher. And if anyone in this country can think about what their life would have been like without any sport opportunity – no playground, no organized sports – it really does shape who you are and teaches you so much about life in such a friendly environment. That's the essence of Right to Play.
Article continues below advertisement
Did you learn anything from that experience that you still practice today?
I think it was about trusting in my sport background to not be afraid to take responsibly and be accountable and move forward and get better. I think that's what Donald Trump is looking for in a person to be on his team. He wants someone who is not afraid to fail and who can come back and do it better. It just reminded me of the importance of doing what's in your gut, which is usually the right decision.
You're also a member of Jamba Juice's Healthy Living Council. What does that entail?
We try to held guide Jamba Juice in a healthy direction with their food. The kids meals that they have are amazing. The nutritionists we have on the council have put countless hours into figuring out the correct pie chart of carbohydrates, protein, fiber, and it's all in there for the kids. We are on the council to make sure that there is a balance. We're working together to try and raise a healthy generation and properly fuel our community, and it starts with breakfast! My entire life, my mom has fed me oatmeal before swim meets and say, "You need to eat every bite of that because it's going to stick to your ribs." And I would imagine it sticking to my ribs and fueling me throughout the swim meet. It stays with you and makes you feel full. You can add fruit and add-ons and make it your own. With kids, if they get to create it, they are going to eat it.
Article continues below advertisement
What is your go-to Jamba Juice order?
During the Celebrity Apprentice, we would always order our breakfast and eat it during hair and makeup because our call time was so early, around 4:30 a.m. I would always order blueberry oatmeal from Jamba Juice. Everyone would always say, "Jamba has oatmeal?" Nobody knew about it! It's steal cut, organic and made with soy milk instead of water. I loved Strawberry Wild when it first started, then I moved to Peach Pleasure and now I like the Harvest Greens. I also love the beat and red vegetable juice mixed into things. I mix it up depending on what I feel like I need. And the cure for a night out is a shot of wheat grass and a big smoothie with extra vitamins in it. I've been a Jamba girl for a long time. My brother first introduced my family to it and at the helm of it, we owned 23 Jamba Juices. And now I still own one, the original one back in my hometown, so for me, Jamba literally fueled my youth.
With holiday parties in full swing, what are your tips for staying in shape?
Before you go to any party, make sure you're hydrated! Water is your best friend, because it really fills in areas that you might confuse with hunger. You really have to recognize the difference between thirst and hunger. I know everyone is tempted to join in on a cocktail, but there are ways to work around it. Order something with a lot of ice, or ask what will be served ahead of time and find the least-calorific drink. Lastly, there are always buffets and lovely displays of food at every holiday party. You don't have to dive in right away. Star the party by chatting with people. You've already had your big glass of water and you're sort of full, so just ease your way over there. The stuff that is going to go quickly is the yummy stuff full of calories and then the question is already answered for you – it's already gone. And if you want to indulge a little bit, just have one; don't fill your plate up. They give you a tiny cocktail plate for a reason so just put a couple things on there and call it a night.
Article continues below advertisement
What about keeping kids healthy during the holidays?
It really is no different for the children during the holidays. My kids want to reach for the cookies and treats all year round, so the biggest challenge is for the adults! But it's all about consistency. I try and let my kids make their own decisions when it comes to candy and things like that. Instead of just telling them no, I say, "You need to make this decision about what's best for your body. What do you think you should have right now?" I want them to understand why and they usually make the right decision. Not all kids are the same, and I don't think my son would make those same decisions, but it's a great learning lesson and opportunity to teach by example. You can't say to your kids, "Sorry, you can only have one brownie," while your plate is full of treats.
What is your fitness routine like?
My loves are swimming and running. I get into a routine and I love the way it feels to go for my nice run and pop in the pool for a loosen up swim. But I do need to break it up more. I'm conscious of that so I've introduced yoga into my routine and some circuit training.
What other projects are you working on right now?
I have a show called We Need To Talk, which is an all female sports talk show on CBS Sports Network on Tuesday nights. There are 12 of us as co-hosts and we rotate 4 per week. It's really fun! We talk about all sports, not just female sports, which is really exciting and groundbreaking. These are women who have been in sports a long time and we all support each other and are fans of each other. It's a great message for women and girls and I'm honored to be a part of it.