Exclusive
Kenya's Revenge? Charity At Center Of Moore & Nene Leakes' 'RHOA' Scandal Accused Of 'Robbing Innocent Housewives'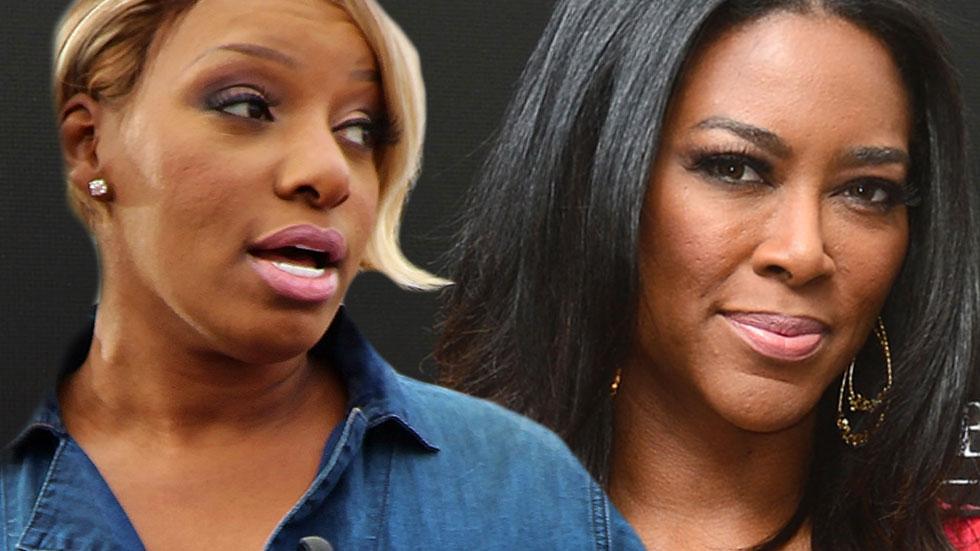 In Feb. 2013, Real Housewives of Atlanta star Kenya Moore claimed to have donated "thousands of dollars" from a masquerade ball honoring Nene Leakes to a non-profit called Saving Our Daughters. At the time, CEO Curtis Benjamin released a statement which called into question Moore's integrity, by saying, "our records show that Saving Our Daughters did not receive any of the proceeds raised from Ms. Moore's masquerade ball." But one year later, a real-life housewife tells RadarOnline.com that she believes that's a lie!
Article continues below advertisement
"I totally believe that Curtis lied when he said that Kenya Moore did not donate when she actually did," Deena Gray-Johnson tells Radar. In fact, she says, "This man owes me and other members of my organization money, as well as an apology!"
"I am the founder of , a New York based charity that partnered with Saving Our Daughters this past year because we have similar goals and objectives," Gray-Johnson explains.
In July 2014, Benjamin sent Gray-Johnson an email, obtained by Radar, which stated that she and all other members of her newly-founded charity must pay an initiation fee of $75 to partner with his charity.
"I was just excited to be a part of Saving Our Daughters and grateful for Mr. Benjamin, so I really didn't think anything of it," Gray-Johnson says.
"After that I was asked by Curtis Benjamin to do a number of tasks and thought that it was great that he was teaching me the ropes," she claims. "However, I quickly learned that things were not what they appeared to be, and that me and my charity were being hustled."
Article continues below advertisement
"Curtis Benjamin promised us lots of thing," she tells Radar. "He told us that we were going to be doing celebrity events and that we were going to be working with the NFL, none of which actually happened."
"Our charities were supposed to take the homeless teenage girls from the Covenant House in New York City to see Keke Palmer. Then Curtis changed it and said it was going to be some kids from the Boys and Girls club to see Keke," Gray-Johnson says. "Curtis told us that our tickets were being paid for by Broadway, but this was not the case. I had to pay my own way into the show and Keke didn't even know we were coming!"
"The last straw for me was when Curtis Benjamin offered to help me get t-shirts for Awesomeness After Adversity," she says. "He told me he would get 30 shirts for $225 and I thought it was a deal so I said okay and paid him. However, when I got the shirts, they really only cost $150 — and to make it worse, they sent me the bill and I had to pay it after I'd already given him the cash."
Now, she says that she's cut ties with his charity — and that the RHOA stars should stay away as well.
Article continues below advertisement
"Awesomeness After Adversity is done with Saving Our Daughters," she says. "We will not be ripped off and we hope that no one else has to be scammed by this man and this organization."
When reached for comment by Radar, Benjamin said, "No comment on that."
As Radar previously reported, Saving Our Daughters had their tax-exempt status revoked by the IRS in Feb. 2013 for withholding information about their finances.
After releasing a statement that said, "as of December 2013, the non-profit organization Saving Our Daughters has been engaged with the IRS and has re-submitted for its 501-C-3," Radar has learned that the organization did have their status reinstated, but under a different number. The IRS only allows one number, per non-profit.