On The Defensive: Charity At Center Of Kenya Moore Scandal Declares It Will Reclaim Tax-Exempt Status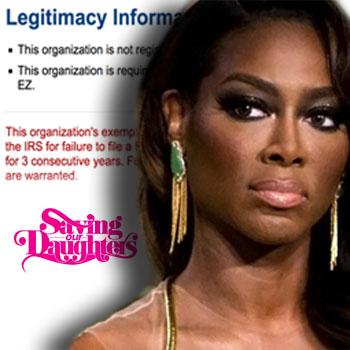 After RadarOnline.com exclusively learned that the charity organization Kenya Moore featured on Real Housewives of Atlanta recently had their tax-exempt status revoked by the IRS for withholding information about their finances, the organization has come forward to defend itself.
"As of December 2013, the non-profit organization Saving Our Daughters has been engaged with the IRS and has re-submitted for its 501-C-3. It is expected that they will be reinstated in mid–year of 2014 and continue its programing causes for young girls in 2014," Saving Our Daughters founder Curtis Benjamin told RadarOnline.com in a statement.
Article continues below advertisement
Benjamin goes on to explain that in 2009, his youngest daughter was diagnosed with a cancerous brain tumor and his "time and energy was solely dedicated" to his daughter until her untimely death in 2011, one month before her 13th birthday.
Faked Scenes, Lies & Payoffs – The Ultimate Guide To Reality TV Shows
"During these unfortunate times, Curtis disengaged in any organizations' duties and in the meantime, the organization unfortunately lost its tax-exempt status.
"After grieving his daughter's death and wanting to fulfill his promise to continue to help young girls, Curtis resumed his duties and passion for Saving Our Daughters," the statement said.
As we previously reported, according to tax documents obtained by RadarOnline.com, Saving Our Daughters has not filed a tax return since 2009.
And even when the charity did file tax returns, the information was concerning: In 2009, the charity used just $10,000 of their $108,233 revenue for grants. The head of the charity, Benjamin, awarded himself a salary that was more than three times that. And the year before, they donated just $10,500 out of $84,874.