Exclusive
Battle Lines Drawn! Caroline Manzo 'Cold As Ice' In Run-In With Amber Marchese Ahead Of 'RHONJ' Return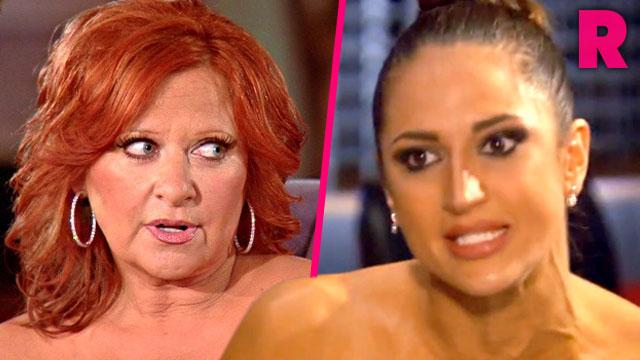 Real Housewives of New Jersey star Teresa Giudice, 42, is heading off to prison in under a week to begin serving a 15-month sentence, and as RadarOnline.com exclusively reported, Bravo is eyeing former cast member Caroline Manzo to be her replacement. Manzo has yet to confirm or deny her return, but Radar has learned she's already creating drama with the other housewives: According to a source, she was "cold as ice" when she met Amber Marchese at a recent event!
Article continues below advertisement
"Caroline met Amber Marchese at the premiere for Girlfriends Guide To Divorce in New York City a few weeks ago," a source who was present at the event dished.
And far from one Jersey girl and Bravo vet welcoming another, Manzo was "as cold as ice" to Marchese, the source claimed.
Why the tension?
As Radar reported, Manzo recently made up with her sister, Dina Manzo, 43, and the source believed the confrontation of Marchese was a sign of the new alliance.
"Dina had issues with Amber this past season both on and off the show, so it's possible now that Dina reconciled with Caroline that Caroline has something against Amber," the source said.
"Furthermore," the source continued, "Dina has been known to try to make alliances on the show. Dina is a complete opportunist, and it seems likely she reconciled with her family only to have an alliance and some protection against people she doesn't get along with, like Amber."
Article continues below advertisement
When approached by Radar for comment, Marchese said, "The one time I met Caroline, she didn't strike me as an unintelligent woman or someone who would come to conclusions without hearing both sides of the story."
And what about Marchese's thoughts on an alliance being the reason Dina made up with her family? Marchese said, "I cannot comment as to the intentions in someone else's heart; however, it is nice to see this have happened. It says a lot about Dina's family to welcome her back with open arms."
Does Marchese have any wishes for Dina? She wrapped up by saying, "I truly hope and pray Dina find peace and love in her heart."
Whose side are you on? Let us know in the comments!
Watch: Amber Marchese Interview