President Obama Welcomes Prince William To The White House For Talk On Wildlife Trafficking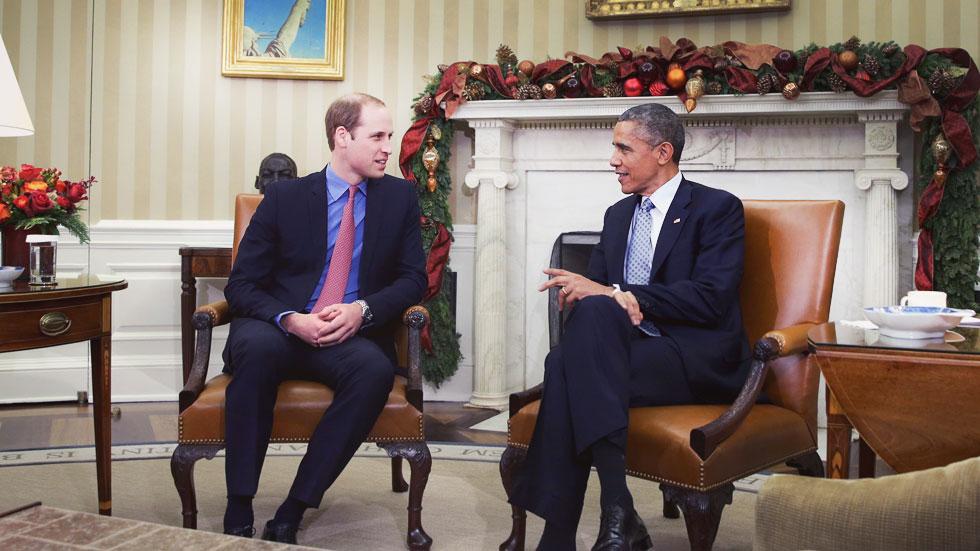 Two world powers converged on Monday, as Prince William and President Barack Obama met in the White House, where the Duke of Cambridge was slated to speak with the commander-in-chief on the issue of illegal wildlife trafficking.
The men were clad in navy blue suits as they amiably chatted in the Oval Office about the issue.
The prince previewed the discussion with a U.K. Huff Post column saying the topic is "extremely close to my heart.
Article continues below advertisement
"I am honored to have the opportunity to speak at such an influential forum," Prince William wrote. "Many people might wonder why conserving wildlife should be considered so important when there are wider issues of global and national interest, such as conflict and poverty to worry about.
"The answer is because these issues are interlinked. Wildlife crime goes well beyond just a threat to endangered species but also has impacts on our society, economy and security. It undermines efforts to uphold the rule of law, acts as an agent for corruption, creates a barrier to development and fuels global instability."
While the prince, 32, was chatting with the president, 53, his wife Kate Middleton toured a child development center with New York City First Lady Chirlane McCray.
The royals, on their first visit to the states in three years, arrived in New York on Sunday. They are also slated to take in a Brooklyn Nets game, visit the Sept. 11 Memorial and meet with Hillary and Chelsea Clinton.