Exclusive
'Determined To Make It Work!' Kim Kardashian & Kanye West Planning 'One More Baby' To Save Their Marriage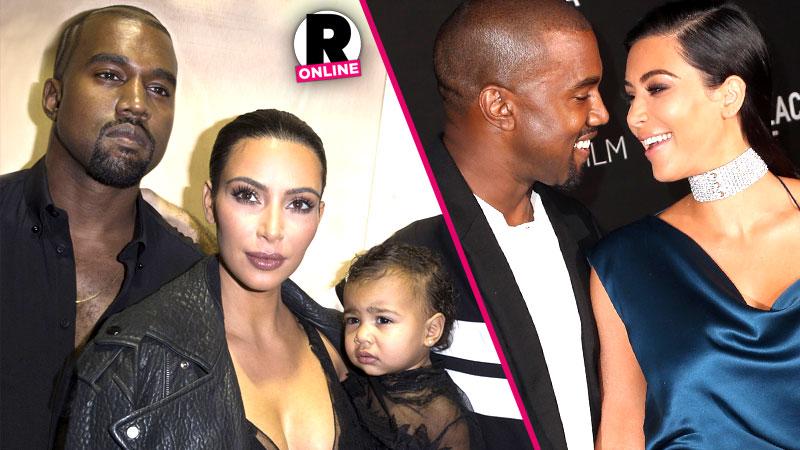 While Kim Kardashian was busy kissing troops in Abu Dhabi last week, her husband Kanye West was miles away in Paris, in just the latest sign of their crumbling marriage. But as tensions rise and their time apart increases, an insider tells RadarOnline.com that Kardashian is "determined" to make her relationship work — and thinks that "one more baby" might just be the thing to save it!
"Kim is determined to make this work because she does not want to ever have to go through what she is watching her mom and Bruce go through," the source says, referring to Kris Jenner's overly-public divorce from ex-husband of 23-years, Bruce Jenner, 65.
Article continues below advertisement
As RadarOnline.com previously reported, momager Kris, 59, has been the mediator in recent Kimye spats, telling her daughter that "she'd better fix" her marriage problems "because her career won't survive another divorce."
And apparently, Kardashian listened to her mother's advice!
According to the family friend, Kardashian and her rapper husband are "not getting a divorce" and, in fact, are "planning to have another child in the near future!"
"She wants to have just one more baby and then she is done," the source adds.
But that might be easier said than done if the couple keep up their hectic jet-setting schedule.
The 34-year-old star of Keeping up with the Kardashians took to her Instagram Monday to share photos from her Nov. 24 trip to the U.S.S. San Diego aircraft carrier, which is stationed in Abu Dhabi. In one photo, the Keeping Up with the Kardashians star is seen kissing a soldier on the cheek, and in the caption she wrote, "Kisses to the troops! Thank you for all you do! Was an honor to meet you all!"