It's On! Kenya Moore Battling New 'RHOA' Star Demetria McKinney Over A Man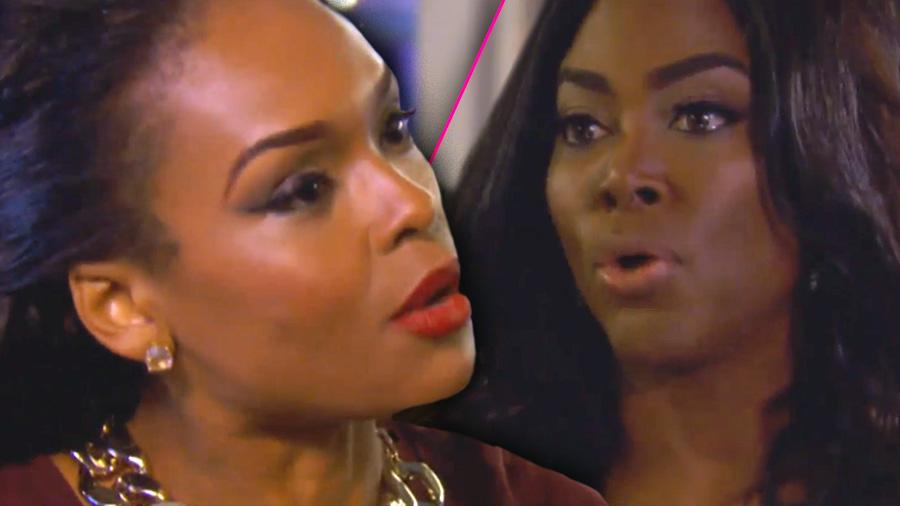 The claws are coming out!
In a preview for the upcoming episode of the Real Housewives of Atlanta, new "friend of the housewives" Demetria McKinney finally makes her big debut — much to Kenya Moore's dismay.
It seems the two women are both dating the same guy, and they get into an explosive confrontation about who has dibs on him.
"I am dating Roger Bobb," Moore, 43, warns 35-year-old McKinney in the preview.
Article continues below advertisement
Though McKinney may be new, she isn't taking any crap from Moore.
"It's like, Kenya gets a chance to claim him and I don't," snipes McKinney.
Moore then tries to brush the newbie off.
"I don't know you at all," she sneers.
But McKinney won't be dismissed that easily.
"Oh, no, no, no," she shouts, getting up into her new nemesis' face. "Wait, wait, wait…"
The confrontation between Moore and McKinney isn't the only drama in store on the show. Viewers also see Phaedra Parks, 43, battling it out with Apollo Nida over their crumbling marriage.
"I'm still your husband, don't forget that," Nida, 36, tells her. "I'm sick of straddling the fence. If two people are unhappy… it's one solution."
Unfortunately for Nida, As RadarOnline.com reported, Parks found her own remedy to the situation by filing for divorce in October.
WATCH THE PREVIEW