Kanye's Brother Tells All! West 'Controls Kim' Kardashian — Fears He Could Lose Her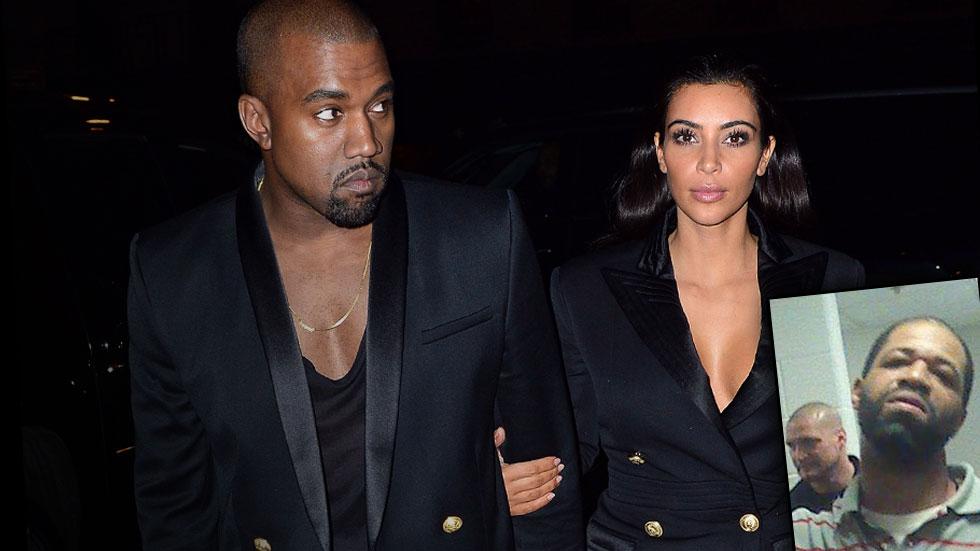 It's no surprise Kanye West has been dubbed as the most controlling man in Hollywood. With a flourishing career, an unfathomable fortune and the infamous Kim K. at his side, one might venture to say he's got it all – and all to protect from now on.
In a recent interview with heat, Kanye's stepbrother, Hal Carmichael, speaks out on behalf of the superstar, indicating that the passing of Kanye's mother may be the root of the issue. Donda, proud momma-bear, passed away following cosmetic surgery and Kanye has never forgiven himself for moving her from New York to Los Angeles. Losing his mother has made him terrified of losing Kim and North, which explains his extreme measures in privacy.
Article continues below advertisement
After capturing the heart of his "dream girl," Kanye's dedication to family is stronger than ever. "Kanye constantly worries about Kim and North because he knows the kidnap is risk is high," says Hal. "Because of the lifestyle they lead, he has to think about it carefully nowadays. Kanye controls Kim, like where she travels and what she does, to protect her. He thinks the more the public see them, the more at risk they are."
But with all the risk, why does Kanye insist on keeping his wife in the limelight? "Kanye and Kim want to be the next power couple and that comes from exposure," Hal explains. "Kim being on television is a compromise, but Kanye knows that's her career and he'll support her. But Kanye keeps his inner circle tight – with North, she'll only be looked after by Kris or her aunties. They have a nanny as well, but North is kept around family. Kanye does this to protect her."
Article continues below advertisement
Despite his commanding paranoia, Hal insists that his powerhouse brother is a gentle guy at home. "Kanye doesn't smile in public, but he's smiling with us," Hal shares. "He's a real joker, he's really witty and makes Kim laugh all the time. When he looks moody, it's because he's thinking, he never stops planning in his head, but behind closed doors he's always smiling…No matter how big Kanye gets, or how much money he makes, he's still the same humble guy who sat in college sketching trainers onto his books. Whatever he gets, he always gives back to our family, he's the most generous, kind guy I know."
Are Kanye's overprotective precautions justified? Let us know in the comments!