New Glossy 'Eat This, Not That!' Is The Perfect Guide For Making Your Holiday Menu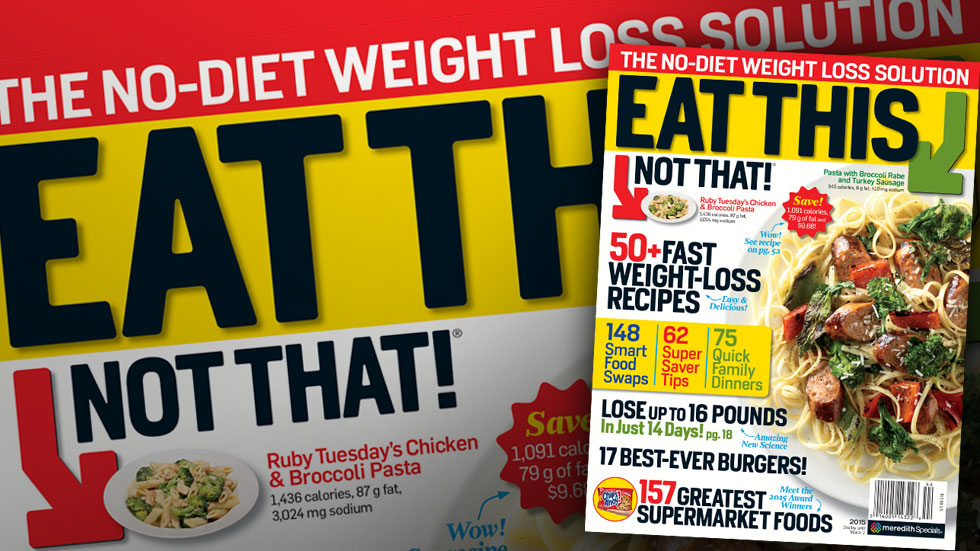 The holidays are coming—and many Americans could use a guide on how to keep their favorite dishes and treats on their holiday menu, but with a healthy twist.
Enter, Eat This, Not That! magazine, which will be available on newsstands for the first time ever this December from the Meredith Corporation.
Based on the column by David Zinczenko that began a decade ago in Men's Health and since has expanded into several books, Eat This, Not That! will feature 120 pages of entertaining—and informative—articles from nutrition to weight loss to sticking to your diet while dining out.
Article continues below advertisement
"With the holidays upon us, this is an ideal time for consumers to pick up a copy of Eat This, Not That! magazine," Meredith National Media Group President Tom Harty said.
"According to our research, 46 percent of Americans are currently on a diet – but 71 percent can't tell you how many calories were in their last meal," Zinczenko added. "Eat This, Not That! has never been so essential."
The premiere issue of the quarterly glossy, which hit newsstands on Dec. 2., will debut its newest feature the Eat This! Awards for the Best Supermarket Foods in the country, finding the best of everything in the grocery store from lunchmeats to cookies to hummus to frozen corn dogs.
Eat This, Not That! magazine will also include features like:
• Master Your Kitchen, which features more than 50 recipes designed for maximum nutrition and weight-loss impact.
• The Best and Worst Kids' Foods in America, plus a survival guide for parents trying to feed their children well.
• The Restaurant Survival Guide, designed to help readers drop pounds by making simple choices at their favorite restaurants, from Applebee's to Wendy's. (One simple burgers-and-steak swap at Outback will save readers 620 calories alone!)
• The exclusive Eat This, Not That! Reader Poll, with surprising new insights into the way we shop and eat today.
Eat This, Not That! magazine is available on newsstands now for $13!