Win The American Cinematheque Tribute Gift Bag In Twitter Contest!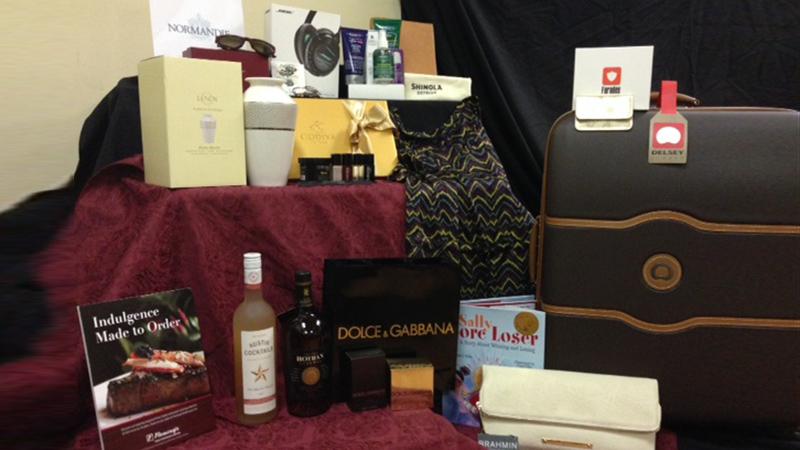 You too can be a star! Win the bag given to your favorite celebs at the American Cinematheque Tribute. If you don't win a bag here, you can bid on two autographed bags filled with gifts at www.Charitybuzz.com starting October 29th. To enter, simply follow @Radar_Online on Twitter and tweet at us using #RadarGiveaway. Contest ends October 23rd.
Prize includes:
Austin Cocktails- A line of bottled, craft cocktails made with six-times distilled vodka and natural ingredients. Because the drinks are sweetened with organic agave and no sugars or syrups, they are under 100 calories. Prize includes Austin Cocktails t-shirts.
Article continues below advertisement
· Bose- Bose SoundTrue™ headphones feature an advanced acoustic design for clear, natural audio across the full spectrum—from vocalists who hit the high note, right down to a good bass line groove.
· Botran Aged Rum- The Botran® family has been the creator of premium rums in Guatemala for more than six decades, with uncompromising dedication to quality and superior taste. The Botran Reserva is an exquisite assembly of mature rums aged for up to 15 years in oak barrels, which yield the rum's polished mahogany color and unique flavor. Prize includes Botran shaker.
· BOUCHERON- An innovator and a visionary, Frédéric Boucheron founded the French art of High Jewelry. More than one hundred and fifty years later, the Boucheron atelier has become legendary and continues to create and perpetuate the savoir-faire of the Maison. Fine leather passport cases.
· BRAHMIN- Brahmin handbags are known for their bold and timeless designs that allow women all over the globe to express their own personal style.
Article continues below advertisement
· Chrome Girl Nails- Chrome Girl Nail polish is free of the harsh chemicals, cruelty free, and Made in the USA.
· CM Beachwear- CM Beachwear is the largest high end beach brand from Brazil. This gorgeous cover up is made of luxurious, high definition fabric.
· DELSEY Luggage- Since 1946 iconic French luggage brand DELSEY has been creating pieces unmatched in design and innovation. DELSEY's newest Parisian-chic collection, CHATELET, includes a unique Stop-and-Go brake system that prevents the luggage from drifting away!
· Dolce & Gabbana Fragrances- Like the woman that wears it, the strength and uniqueness of Dolce&Gabbana The One fragrance is a modern 'floriental' eau de parfum combining contemporary fruit ingredients with the perfumer's classic palette of white flowers. Dolce&Gabbana The One for Men is an elegant, sensual perfume that is decidedly modern- an Oriental Spicy perfume developed from the harmony of Tobacco notes and refined spices.
Article continues below advertisement
· FARADEE Inc- The Faradee® Credit Card Case is a state-of-the-art, dual function credit card case designed with two pockets. It protects the credit card from electronic pickpocketing and the abuses of credit card information (i.e. digital theft) as well.
· Fleming's Prime Steakhouse & Wine Bar- At Fleming's a steak is never just a steak. It's the culmination of a meticulous process of selection, preparation and service that ensures it reaches your table at its very best.
· Frank J.Sileo, PhD- Sally Sore Loser: A Story about Winning and Losing- Award-winning children's book that teaches children to be good losers and good winners.
· Godiva Chocolatier- Our 36 pc. Gold Ballotin with Classic Ribbon is filled with an irresistible assortment of fine GODIVA Belgian chocolates with luscious pralines, velvety ganaches, creamy caramels, and delicious nuts and fruits in milk, dark, and white chocolate. Finished with an elegant two-toned gold and brown ribbon, it's the perfect gift for your favorite chocolate lover.
Article continues below advertisement
· Hotel Normandie- One night stay in the newly renovated Hotel Normandie.
· Kiehl's Since 1851- Kiehl's Since 1851 is a 163 year old, New York apothecary skincare company, well known for its highly efficacious products formulated with the finest ingredients and its long-standing mission of giving back to the community.
· LENOX CORPORATION- Hundreds of raised beads decorate the vase, forming a swirled motif against a pearlescent white, with platinum trim, giving this simple sophistication.
· The Lincoln Motor Company- American-made journal cover handcrafted by Shinola Detroit from premium vegetable-tanned Horween leather.
· Luca + Stella- Luca + Stella jewelry are handcrafted, American-made bracelets inspired by the dream of a young man who lost a battle to Leukemia at the young age of 33. Luca + Stella is more than a line of jewelry – it reminds us that through love, inspiration and passion, we should all boldly embrace the journey of life.
· Marchon Eyewear- Salvatore Ferragamo Eyewear by Marchon.
Items in photo subject to change based on availability- some colors and styles may vary. Courtesy of Backstage Creations.