Real Housewives Of New Jersey's Melissa Gorga Doesn't Believe Widespread Rumor That Teresa Aprea's Husband Rino Bedded His Mother-In-Law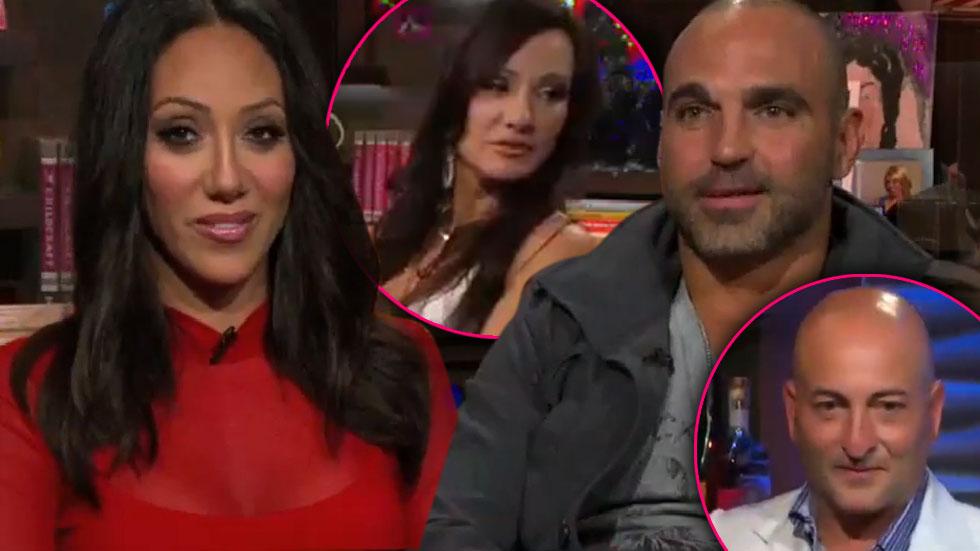 Melissa Gorga called an ongoing rumor that Teresa Aprea's husband Rino bedded his mother-in-law, Santa, "disgusting," "ridiculous" and "100 percent untrue."
Melissa, appearing alongside her husband Joe on Sunday's edition of Watch What Happens Live, shot down the embarrassing story, saying she "100 percent does not believe it," before sharing kind comments about Santa and her family.
"If you ever met her she's just the sweetest, nicest lady," the sometimes-singer told Andy Cohen. "And the family has such a tight bond … there's no tension."
Article continues below advertisement
As RadarOnline.com previously reported, an insider said that while the affair "happened a long time ago … Rino and Santa did have sex — and it happened more than once."
Watch the video on RadarOnline.com
Elsewhere in the chat, Joe's insatiable libido — Melissa joked with the phrase, "50 Shades of Gorga" — was the topic of discussion, as Teresa Giudice's baby brother told Andy Cohen that even when his stunning wife is not in the mood for love, she's understanding and obliging toward his urges in the bedroom.
"She's like, 'Alright honey, whatever you gotta do' … there's other ways, we do other things too."
In spite of the ongoing hanky panky between the married lovebirds, don't expect to see any little Gorgas anytime soon, as Melissa said she's "happy with three" children, while Joe "would have five," if he had his druthers.
"In a second," he said. "I want one more daughter."
The Real Housewives of New Jersey airs Sundays on Bravo at 8/7c; Watch What Happens Live airs Sunday thru Thursdays on Bravo at 11/10c.