Exclusive
Destroyed By Fame! Neighbors Reveal How Honey Boo Boo Family's Move To The Spotlight Could Have Contributed To Split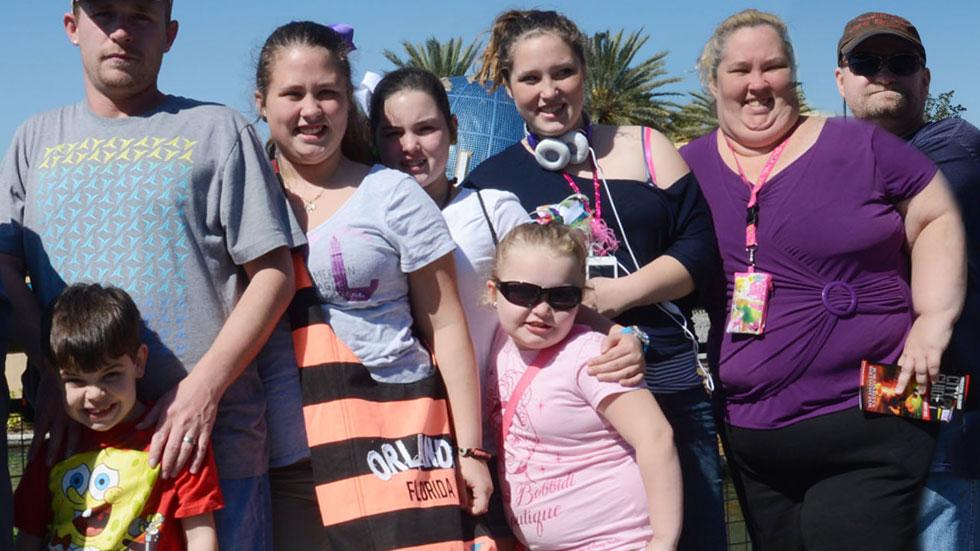 Honey Boo Boo and her infamous crew of country characters are the small town family who made it big. But the unique Thompson clan, who brought fans such unforgettable catch phrases as 'redneckonize', 'vajiggle jaggle' and 'go-go-juice', are splitting up, now that matriarch and patriarch June Shannon and Mike "Sugar Bear" Thompson have called it quits. And like many obscure families thrust into the reality TV spotlight, their neighbors tell RadarOnline.com that the price of fame could have broken up their happy home.
Article continues below advertisement
Doris Phillips, who used to take Shannon's girls to Sunday school, says her small town Georgia community didn't even know the couple had called things off.
"They don't' socialize much with the community anymore. When they got famous they didn't have much communication with us," Phillips told RadarOnline.com exclusively. "But they've always been so nice. I don't know them having problems with anyone around town."
Even in McIntyre – population 650 – the latest break-up news was news to the locals.
"I didn't know anything about them splitting up. If it's local gossip, we'd hear," she added. "I spoke to several other people and they didn't know either."
According to another neighbor, the Shannons and Thompsons have kept a low profile.
"I saw them around town separately. But we didn't know anything about what was going on," said the resident.
Article continues below advertisement
Since the unconventional toddler pageant queen with a potty mouth skyrocketed to stardom, things just haven't been the same in the neighborhood.
"I don't see them outside anymore," added Phillips. "They hired bodyguards down there for her. They aren't police. It's somebody they hired. You can tell. They stick out like a sore thumb."
According to reports Friday, the 34-year-old reality mom, who recently had a commitment ceremony with longtime flame Sugar Bear, suspected him of cheating after she caught him trolling online dating sites like PlentyOfFish.com.
Using the screen name Georgiafighter31054, the 42-year-old's wandering eye hopes to catch the attention of the lucky ladies using words like: "I love to hunt fish and ride 4wheelers and have a good time. I luve muddy Boggs and love to ride in the mudd."
Since his roving was exposed, Mama June released her own statement: "Sugar Bear and I have decided to take some time apart to figure out some things in our relationship," she said."We are taking things day by day but regardless of what happens the girls will always be our #1 priority. We want to thank ya'll for your support."
Do you think the couple will make it work or should Mama June move on? Let us know in the comments!