Exclusive
Giveaway: Win A 2014 VMA Gift Bag Valued Over $3,500!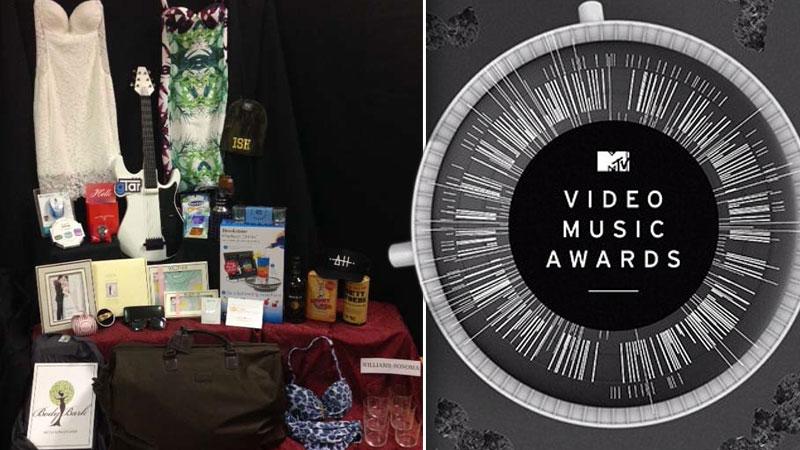 You too can be a star! Win the 2014 "MTV Video Music Awards" gift bag valued at over $3,500! Be sure to tune in Sunday, August 24 at 9pm ET/PT. To enter, be sure to follow @Radar_Online on Twitter and tweet at us using #RadarVMAGiveaway. Contest ends Monday, August 25th, 2014 at 11:59pm EST. Tweet away, the more times you tweet, the better chance you have to win!
The gift items selected include:
· - Black Ascot and Hart logo trucker hat.
Article continues below advertisement
· Body Bark®- Body Bark® is a luxurious line of softly sophisticated tops and lounge wear for women that is made in the USA from sustainable fiber.
· Botran® Rum- The Botran® family has been the creator of premium rums in Guatemala for more than six decades, with uncompromising dedication to quality and superior taste. The Botran Reserva is an exquisite assembly of mature rums aged for up to 15 years in oaken barrels, which yield the rum's polished mahogany color. Winner receives a Botran cocktail shaker.
· Brevity Jewelry- Brevity was launched by Anna Corpron in 2007. The word brevity means "the quality of expressing much in few words". That definition is what drives the design philosophy behind Brevity – I aim to create designs that are concise and simple, yet meaningful.
· Brookstone- Perfect Drink App-controlled Smart Bartending from Brookstone —turning bartending beginners into master mixologists. A revolution in home bartending, Perfect Drink's smart scale and free app let you choose from hundreds of drink recipes, follow real-time pouring instructions, and watch as a virtual glass fills on your smartphone or tablet. That way, you know exactly how much to pour and when to stop—for perfect drinks, every time.
Article continues below advertisement
· CM Cia Maritima Beachwear- CM Beachwear is the leading high-end brand of swimwear and apparel in Brazil-now offered in the US. CM also features Lycra Xtra Life™ incorporated into the threads of the fabric which extends the life and the wear of the garment, ensuring a higher quality product with a luxurious feel and gorgeous fit.
· DenTek Oral Care- DenTek Floss Picks + Case- The perfect way to keep your smile healthy and fresh on-the-go! These Comfort Clean Floss Picks come in a cute travel-friendly case that is perfect to keep in your purse, travel bag, or pocket to easily eliminate food particles and keep your breath fresh – no matter where you are!
·DenTek Comfort Clean Floss Picks- Versatile, silky ribbon floss picks that are ideal for sensitive gums, these feature a unique textured pick to ensure a deeper clean while also promoting gum health, as well as a tongue cleaner to freshen breath!
· gTar by Incident- The gTar is an app-enabled smart guitar that can teach you how to play, lets you make music, and then share it with your friends.
· House of CB- Gorgeous dresses from House of CB, a Brit Brand women's wear LABEL #designedinLondon.
Article continues below advertisement
· Invitation Consultants-Invitation Consultant's note cards are the perfect way to add the ultimate, personalized touch to your outgoing messages. So bring your notes to the next level with this shimmering stationary.
· LENOX CORPORATION- Hundreds of raised beads grace the frame. White beads form a swirled motif against a pearlescent background. Boarders of shimmering platinum the design + photo.
· LIPAULT PARIS- 24" 2-wheeled satchel.
· Logitech- From timeless styles to modern classics, this bright, vibrant collection of computer mice puts a wide range of fashionable looks in the palm of your hand.
· MPOWERD Inc.- Luci® Aura, an inflatable, color-changing solar lantern with a dazzling frosted body, is a glamorous, fun and sustainable light that is perfect for celebrations, pool parties and home décor! From romantic magenta to high-energy aqua, Luci Aura turns on the charm with seven luminous hues plus classic white, cycles through colors like a lava lamp, floats on water and lasts all night.
Article continues below advertisement
· Marchon Eyewear- Calvin Klein Collection classic eyewear by Marchon.
· MOBOT™- This hot new handcrafted designer bottle makes the statement that looking good and feeling good mean something to you. Introducing MOBOT™ the world's first and only travel foam-roller and water bottle in one genius package.
· NOMINATION ITALY- Sweet and delicate like a delicious dessert, this collection comprises necklaces, rings, earrings and bracelets available in 18k gold and stainless steel.
· Pure Plant Home- Coconut wax candles with real essential oil aromas for conscious living.
· Rolf Bleu- Rolf Bleu Slouch Beanies – Top selling brand nationwide. Street inspired. Blank or embroidered… a style "must have". @rolfbleu
· SISTERS OF LOS ANGELES- SoLA Freeway Shooters are taking aim to be a favorite party item. The set of four includes the 101, the 10, the 405 & the 5. The perfect ice breaker! Sisters of Los Angeles- A Collection of Los Angeles & City Inspired Gifts & Modern Memorabilia.
Article continues below advertisement
· University Games- SMART ASS by University Games- The ultimate trivia card game where you can win even if you're a dumb ass!
- Roll the dice and create sentences based on the words showing- the "dirty" is all in the player's mind!
· Wildfox Couture- Cami Set: This PJ set features a cute, camisole tank with two daisy blooms across a flowy body and shorts featuring a ruffled hem and "Dreamer" written across the back.
·Mask: Bright daisies bloom on this deliciously soft eye mask with light padding across the eyes, an elastic band, contrast piping and lace trim.
· Williams-Sonoma- Williams-Sonoma Open Kitchen Tumblers, Set of 6. Williams-Sonoma Open Kitchen Waiter's Corkscrew.
Items in photo subject to change based on availability- some colors and styles may vary. Courtesy of Backstage Creations.