Robin Williams' Wife — Alleged Suicidal Scare & Involvement In Cult Revealed In Bitter Divorce Battle With Ex-Husband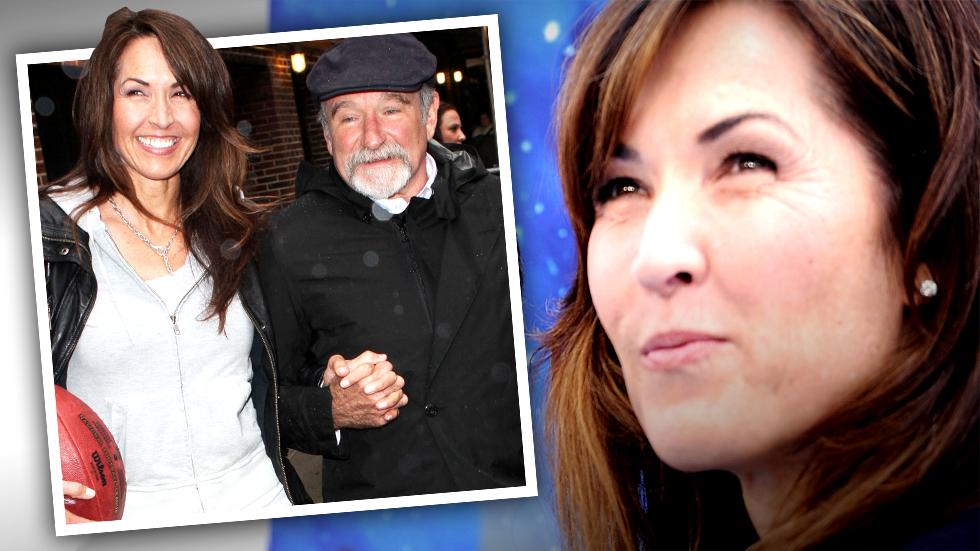 While grieving for Robin Williams, it's been revealed in explosive court documents that his wife Susan Schneider was once allegedly suicidal herself and her ex-husband even feared she wasn't stable.
Schneider once belonged to a New Age "cult" and claimed in court documents obtained by The National ENQUIRER show that she was left $200,000 in the hole from them, before she and her ex-husband, Richard Armusewicz, fled.
Article continues below advertisement
While filing for divorce from Armusewicz in 2001, her ex charged that "she was suicidal just in the last 4 months" and said he questions "whether she is actually very stable."
COURT DOCUMENTS: Robin Williams' Wife & Her Hellish Suicide Nightmare
"I have concern that she (Susan) has stated on two occasions very recently that she could seriously hurt herself or hurt somebody else," Armusewicz wrote in the April 11, 2011 lawsuit papers.
During their 10-year-marriage the couple had two children together and her ex claims she called their Novato, Calif. home a "hub" for "cult activities."
"I quit the 'Cult' that Respondent and I belonged to, as I had believed for some time that the 'Cult' was dangerous to my family and financially draining," Schneider wrote in the legal declaration.
"The members of the 'Cult' discuss all major life decisions with the two leaders, a husband and wife team. They are supposedly 'clean and sober' members of Alcoholics Anonymous. However the husband frequently uses Vicodin," she claimed.
MORE ON:
The National Enquirer
Article continues below advertisement
"Since I have left the 'Cult,' I feel as if the weight of the world has been lifted from my shoulders… I am no longer feeling trapped and despondent."
Schneider eventually married Williams in 2011 and he took his own life just three years later.
"Susan's marriage prior to Robin was a living hell!" a source told The ENQUIRER.
"She felt depressed living under the yolk of that kooky 'cult.' She almost lost her mind — and her life!"
To find out more about Susan's nightmarish past, pick up the latest issue of The National ENQUIRER.