Exclusive
Real Homewrecker Of Beverly Hills? New 'RHOBH' Star Eileen Davidson Was Caught In A Clinch With Her Husband While He Was Still Married To Another Woman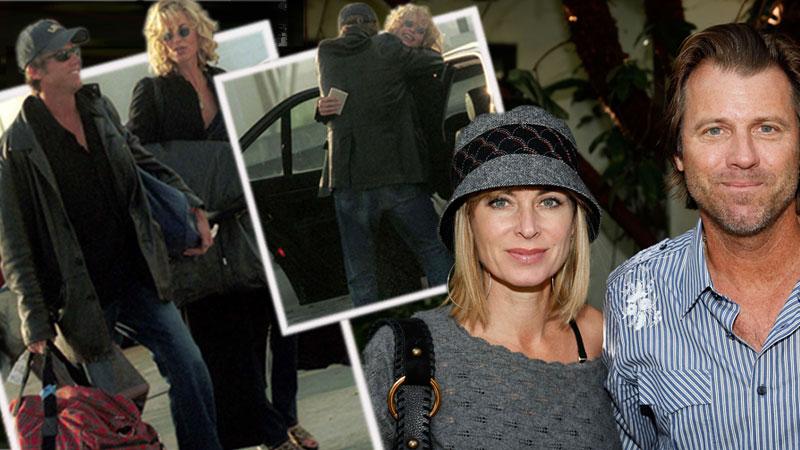 Soap queen Eileen Davidson just signed on for The Real Housewives of Beverly Hills, but she's been causing drama on-camera for years. RadarOnline.com has exclusively learned that back in 2001, she was photographed going on a sexy weekend getaway to Vegas with her current husband, Vince Van Patten — but at the time, he was still married to another woman!
Davidson's husband of three years, Port Charles soap star Jon Lindstrom, filed for divorce from her in November 2000. Not long after, Davidson and tennis pro Van Patten were spotted embarking together on a whirlwind trip to Las Vegas — even though he was still married to Betsy Russell, the mother of his two children, Richard and Vince Jr., who were 7 and 5 at the time.
Article continues below advertisement
READ: The Couple's Divorce Docs — Did The Cheating Come Up?
On December 30, 2000, Van Patten was photographed picking Davidson up in Malibu and taking her to LAX, where they boarded a flight to Vegas — miles away from the San Fernando Valley home he shared with his wife and kids.
"They both looked like they were wearing disguises," a source told Star magazine at the time. "It was obvious they were afraid someone might recognize them."
Indeed, the couple were well known to soap fans, who saw them star together on Young & the Restless. On set, "Vince and Ellen were overwhelmed by a mad passion for each other," a source told Star, even though they were both married to other people.
But during their Vegas getaway, they didn't appear to have a care in the world as they checked into a suite at the romantic Bellagio hotel in the heart of Vegas. According to Star, Van Patten couldn't help but gloat about his company, telling a fellow guest of the hotel, "Are you feeling lucky? I sure am!"
Article continues below advertisement
The photos became public in early January, and Van Patten's wife filed for divorce soon after, citing January 6, 2001, as their date of separation.
Divorce documents obtained by RadarOnline.com reveal that Van Patten and Russell both agreed to a gag order preventing them from making any "disparaging remarks" about each other in the wake of the cheating scandal — both to their children and the media.
Indeed, Russell declined to comment when approached by RadarOnline.com, and he refused to comment at the time.
Do you think Davidson will make a good Housewife? Let us know in the comments!