Exclusive
In Love & Overweight! Khloe's Kurves Are Growing Since Dating New Man French Montana — She's Packed On '35 Pounds' Says Expert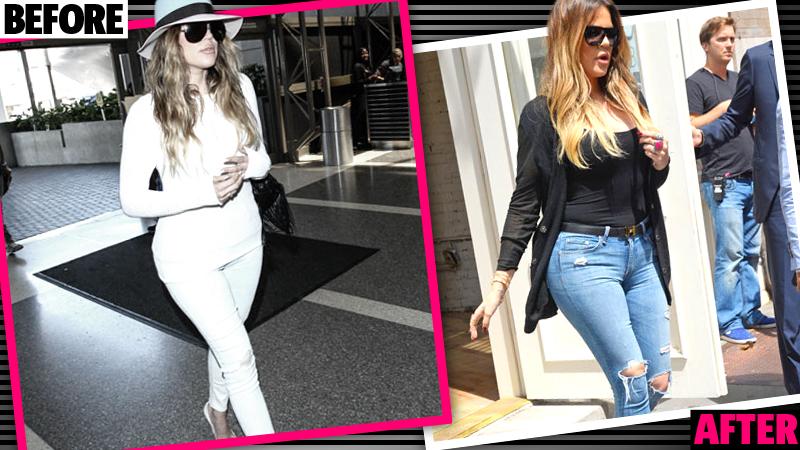 Khloe Kardashian has never looked happier since hooking up with new boyfriend French Montana. But as her love grows, so do her curves! The Keeping Up with the Kardashian star's late nights with her new man have left a sizable impact on her famous curves, and now a fitness expert tells RadarOnline.com she's gained almost 35 pounds!
Though Kardashian had trimmed down this spring with frequent workouts, "She appears to have packed those pounds back on!" certified weight loss coach Alicia Hunter tells RadarOnline.com exclusively.
Article continues below advertisement
Hunter, the author of The Accidental Diet: From Fugly to Fox, continues, "She reportedly had upped her exercise so she could indulge her love of party foods like rich cheeses and desserts and champagne, but now it appears that her newfound social status dating French Montana has tipped the scales in the opposite direction! She is indulging in her favorite foods and drinks, and partying the night away, leaving little time for the gym."
MORE ON:
Keeping Up With the Kardashians
Hunter claims, "She's looked to have gained at least 20 pounds, and as much as 35!"
Kardashian, 30, is no stranger to a wide spectrum of weights, having seen major scale swings in the past.
According to Hunter, such yo-yo dieting is "not healthy, and it becomes more unhealthy every time it's done, and with age. On any weight loss program, a safe weight loss, after a first week loss of several pounds, is anywhere between 1/2 a pound and 3 pounds, in order to ensure permanent weight loss and maintenance of the new scale number! To lose or gain any faster can result in replacing that lost weight (which can include muscle) with additional fat. Also, rapid loss and gain can add additional skin elasticity issues, resulting over time in saggy skin and stretch marks."
Kardashian has said she's learned to deal with her weight fluctuations.
"Over the years I've learned to dress to make myself feel better," she's said. "It's not like I'm eating doughnut after doughnut—I exercise and try to eat right, but dressing for my body type is key."
Do you think she's simply the victim of a few bad outfit choices or has her new relationship taken a toll on her figure? Let us know in the comments!