Exclusive
Jacqueline Laurita's Legal Team Pleads To Drop Her As A Client In Bankruptcy — Claims 'RHONJ' Star Owes Them Money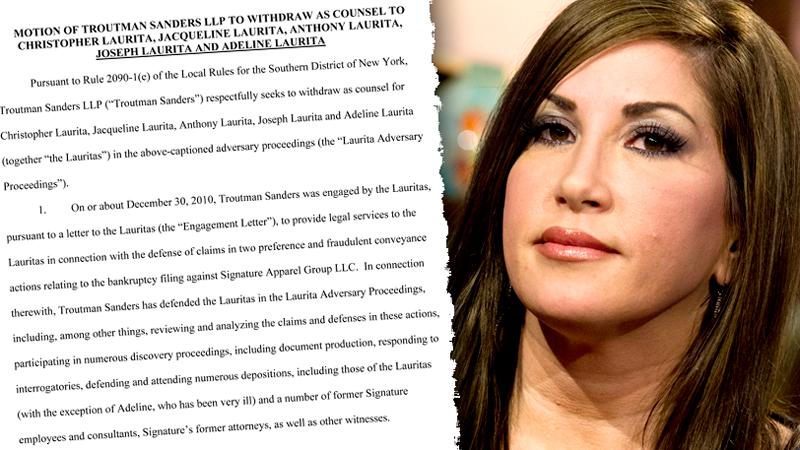 The legal team working for Chris and Jacqueline Laurita in their bankruptcy case has dropped the reality TV couple as clients, claiming they are still owed a "significant amount of money" from the former Real Housewives of New Jersey stars, RadarOnline.com is exclusively reporting.
The Laurita's finances are in shambles after their clothing company, Signature Apparel, failed and filed for bankruptcy in 2009 — only to be accused of knowing the company was going under while taking out money for personal use in an attempt to defraud their creditors.
Article continues below advertisement
"The Lauritas have failed to comply with their agreement and obligations under the Engagement Letter with respect to expenses and fees owed to Troutman Sanders in connection to the Laurita Adversary Proceedings," the filing reads.
"Troutman Sanders has submitted numerous invoices to the Lauritas since the commencement of this representation, and while it has received partial payments in the past, it is currently owed a significant amount of money for past statements."
Article continues below advertisement
Troutman Sanders claims they have made several attempts over the past several months to resolve the monetary issue with no results.
"While Troutman Sanders has continued to represent the Lauritas pursuant to the terms of the Engagement Letter, the Lauritas have failed to comply with their financial obligations to Troutman Sanders. Moreover, the Lauritas' recently expressed unease at being represented by one firm at trial, demonstrates that the attorney-client relationship between the Lauritas and Troutman Sanders has become untenable," the document states.
"Accordingly, Troutman Sanders seeks to withdraw as counsel for the Lauritas pursuant to Rule 2090-1(e) of the Local Rules for the Southern District of New York, which permits withdrawal by order of the Court for cause shown."
As RadarOnline.com previously reported, the couple's never-ending legal woes have left them in financial ruin.
The judge has yet to rule on Troutman Sanders' request.