The Force Wasn't With Him! 'Han Solo' Star Harrison Ford Injured On 'Star Wars' Set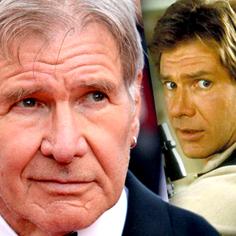 Harrison Ford has been injured on the set of the upcoming Star Wars: Episode VII movie.
Disney released a statement that reads: "Harrison Ford sustained an ankle injury during filming today on the set of Star Wars: Episode VII. He was taken to a local hospital and is receiving care. Shooting will continue as planned while he recuperates."
Ford reportedly was injured near the door of the "Millennium Falcon," the spacecraft his character pilots in the original films, but seems to be making an appearance in the sequel, according to the Hollywood Reporter.
Article continues below advertisement
reached out to both Ford's rep and Lucasfilm, but hasn't heard back yet.
The J.J. Abrams-directed installment reportedly will be set 30 years after the events in 1983's Return of the Jedi.