From The Farm To The Plastic Surgeon's Table! 'Return To Amish' Star Kate Stoltz Visits NYC Doctor, Plans To Go Under The Knife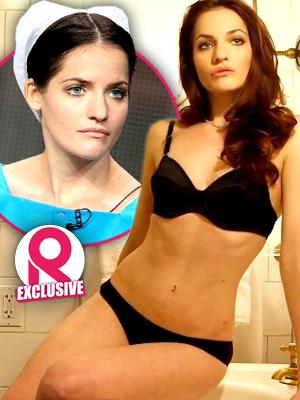 In just two years, Kate Stoltz has gone from Amish schoolgirl to New York City model— and now RadarOnline.com has exclusively learned she's ready to go under the knife!
The Return To Amish reality star, 23— who faced her strict family's disapproval when she posed for a sexy lingerie shoot in Maxim magazine last year— visited elite NYC plastic surgeon Dr. Stephen T. Greenberg on June 5 for a consultation, an insider tells Radar.
Article continues below advertisement
"Kate is ready to get a nose job," the insider reveals. "She's doctor shopping around New York."
According to the source, Stoltz, who's signed with Major Model Management, naturally felt a need for nips and tucks after finding success in the industry.
"Since coming to live with 'the English,' she's noticed a lot of her flaws," the insider explains of the gorgeous 5' 8" star, who left her ultra-conservative religious upbringing to pursue a catwalk career in 2012. "The pressure to be beautiful in the modeling world is intense, especially for someone who grew up so sheltered."
Before gaining national attention for her role in TLC reality series Breaking Amish, Stoltz wore ankle-length dresses and bonnets as she pitched hay on the farm and cooked and cleaned at home.
But now the single beauty has much bigger dreams.
"I want to be on a billboard in the middle of Times Square and I want to be the first person in my family to ever have a college education," she has said. "I realize the world is so large and the only thing that matters is who you are and whether or not you're happy."
Return to Amish airs on Sundays at 10 pm ET on TLC.