Porsha Williams Still Needs 'Anger Management!' Coworkers Slam Her Return To 'RHOA'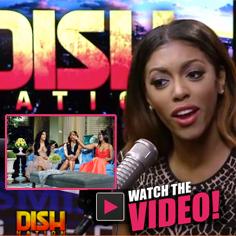 Article continues below advertisement
Now a host on the Rickey Smiley Morning Show in Atlanta that is featured on Dish Nation, Williams told her radio co-stars that she belongs back on the Bravo show.
"I believe she deserves the opportunity," Williams said, speaking about herself in the third person.
"She should be able to come back. You know, people are interested in her life. I think it's great for her."
Her co-worker played Devil's advocate with the violence-prone reality star, expressing doubt about her decision to head back into the ring with the other ladies.
"I don't know. I'm still on the fence if she should go back on that," Gary with da Tea said.
"Because it was violence. The kids saw that. The kids saw fighting and fighting is just not a good thing. When you fight you should have to deal with your consequences. I think she should be put on a suspension, at least go to some kind of anger management class. Because that was just violence."
Williams, who was arrested after the fight with Moore, might not be over her wild ways yet, telling Gary with da Tea: "I think we going to have some violence here at Dish Nation if you keep on."
Check out the video of Williams and her co-workers joking about her return to RHOA, which Radar told you first!
youtube