Exclusive
Too Much Flirting! Neil Patrick Harris Made 6-Month Broadway Deal With Hubby — 'Without Each Other Around, It's Hard To Resist Other Guys Hitting On Them,' Insider Claims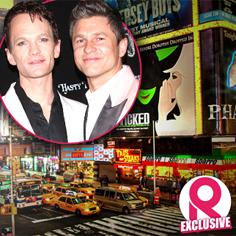 When Neil Patrick Harris agreed to take the lead of Hedwig and the Angry Inch on Broadway it came with a strict rule from his husband, David Burtka — six months in New York, maximum.
An insider exclusively tells RadarOnline.com the deal was made between the two fathers because other men often flirt with Harris and Burtka, 39, wanted him back in Los Angeles with their two children.
"Neil and David came to an agreement that he would let Neil do Hedwig on Broadway for six months, including the rehearsals and previews," the source told RadarOnline.com.
Article continues below advertisement
"David was adamant that he not extend, partly, because moving to New York for longer than the summer would have been too disruptive for the kids."
But perhaps more pressing, was Burtka's jealousy when it comes to Harris, 41.
"David also didn't trust leaving Neil in New York to do the show while he and the kids went back to L.A. because he knows that other guys are always very flirtatious with Neil in LA and he didn't want to risk it in New York," the source revealed.
"At least in LA David is always around to make sure it never goes any further. And not to say certain guys haven't become 'friendly' with David in New York too, but without each other around, it's hard to resist other guys hitting on them."
Earlier this month Harris gave an interview about stepping down from his role as Hedwig in August, when he will be succeeded by Andrew Rannells.
"Hopefully, some much needed rest. I'm ready for a little bit of downtime," he told People magazine.
"After August, I'll be all up in waffles."
In addition, the insider tells RadarOnline.com that although Harris may have wanted to continue on Broadway, Burtka put his foot down.
"Now David gets Neil back for the sake of the family," the source said.
"David fully supports Neil, but doesn't want to be walked all over."