Exclusive
Bravo's 'Ladies Of London' Score Huge Payday — Cast Is Banking $10K Per Episode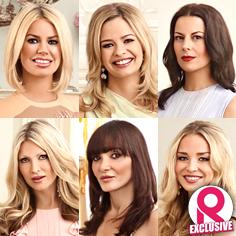 Bravo's Ladies of London cast has scored a lucrative payday in their first season by securing a whopping $10,000 per episode, RadarOnline.com is exclusively reporting.
"It's unheard of that Bravo is paying the women so much money for the Ladies of London, which is only in it's initial season, with no guarantee that the show will get picked up for another season. The cast members negotiated their deals together, making it impossible for Bravo to try and get anyone at a lower amount," a source told Radar.
Article continues below advertisement
However, according to Bravo Ratings, the show which has been bashing Americans, is quickly becoming a ratings flop.
"After last week's episode shed 30% of its premiere's audience, there was a further fall this week, although not quite as high a percentage," the blog reports.
"And this was despite their lead-in show: The Real Housewives of Orange County seeing a slight week-on-week ratings gain. At 10pm only 720,000 viewers aged two years & over tuned in — a reduction of -9.43% on the prior week's 795,000 viewers."
Radar previously revealed the salaries of the housewives of the various Bravo franchises.
The original ladies, The Real Housewives of Orange County, all enjoy huge salaries — raking in the big bucks for drinking wine, fighting and getting plastic surgery.
Vicki Gunvalson is the top earner, bringing in a cool $450,000 per season. Hot on her heels is Tamra Barney who commands $350,000, followed by Gretchen Rossi with $300,000, Alexis Bellino is paid $200,000 and at bottom of the list is newcomer, Heather Dubrow at a paltry $30,000.
Article continues below advertisement
The ladies only saw their pay increase when the show garnered success, and former Real Housewives of New York City star, has previously said her salary for the first season of the show was barely enough money to buy a decent handbag.