Can't Have It Both Ways Girls! Fame-Lovin' Teens Kendall & Kylie Jenner Gripe That 'It's Hard To Be Judged By The World'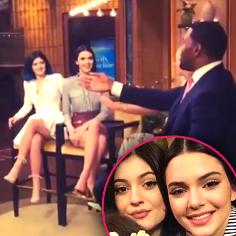 Despite their endless stream of Instagram pics, bikini photo shoots, tweets, walks down the runway, red carpets appearances and the like Kendall and Kylie Jenner said on Live with Kelly & Michael Tuesday that their fame can be a burden at times.
The teenage reality starlets, appearing in New York this week on a promotional tour for their book, opened up about the downside of the bright hot spotlight that's gotten them a total of more than 14 million Twitter followers, with Kendall admitting that the bonanza of money and fame has even left her wondering who her true friends are. "There were definitely moments when we wanted to be just normal," the budding model Kendall said, to which Kylie, 16, moaned, "There's definitely been moments . . . it's hard to be judged by the world."
Article continues below advertisement
The girls also dished details about their recent European sojourn to watch older sister Kim Kardashian and Kanye West exchange vows.
"I really enjoyed the fireworks at Versailles," Kendall, 18, said. "It was incredible and so filled with love . . . it was just amazing to be there." Also appearing on Good Morning America Tuesday, Kendall said that her older brother Rob is "doing really well" amidst a string of unusual events as of late, including an early exit from the wedding festivities, a noticeable increase in waist size, and a seemingly-lackadaisical attitude about it.
The fashionistas appeared on both ABC shows to promote their new book, Rebels: City of Indra.
Watch Kendall And Kylie Chat About Fame On Live with Kelly & Michael:
youtube=https://www.youtube.com/watch?v=DGEbOCdLz9k&w=853&h=480