Ex-Real Housewife Gretchen Rossi Slams O.C. Show As 'Toxic,' Reveals She Doesn't Even Watch It!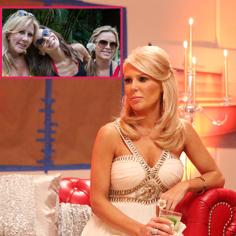 Gretchen Rossi once was in the thick of the drama on The Real Housewives of Orange County.
But, after getting fired last year, as Radar exclusively reported, Rossi, 35, is now throwing shade on the whole show!
Rossi, who is engaged to her former RHOC co-star, Slade Smiley (who also is off the Bravo show), told tooFab.com: "We're really happy to be away from the negativity and how toxic it was.
"As a woman, I am really about empowering other women so it just was not that kind of forum for me anymore," she ADDED. "I couldn't be who I was in my everyday life on that show, so it made it very difficult. It became a big contradiction in my life."
Article continues below advertisement
But those comments might be challenged, as Rossi recently blasted former co-star Tamra Barney Judge online during her bitter child custody dispute!
Rossi further said she's not even watching the current RHOC season, starring Judge, Vicki Gunvalson, and Heather Dubrow.
"When I walked away from that, I don't want to go back to watching it because it gets me all upset," she told tooFab. "It provokes these emotions of frustration."
Still, Rossi and Smiley aren't through with reality TV!
They're appearing on WE TV's Marriage Boot Camp: Reality Stars. Rossi also told the tooFab web site that they've been offered their own reality show as a couple!
The two, who got engaged on their last RHOC season, are also still planning their wedding.
"We have found a couple locations that we love but we are not disclosing a date yet," she said.