Casey Kasem's Wife Chucks Raw Meat at His Daughter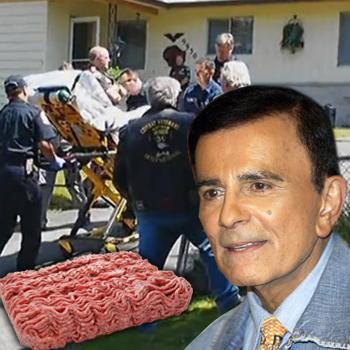 The Kasem family feud got even more bizarre yesterday, and the strange scene that unfolded in Washington state ended with Casey Kasem hospitalized. It all started on Friday, when a judge ordered Kasem's daughter Kerri to be able to visit her father — and take him for medical care if necessary — for the first time since his wife Jean moved him to Washington without telling his children. (The couple are staying with friends, CNN reports.) But when Kerri got to the Silverdale home yesterday with an ambulance, paramedics weren't allowed inside — and after just a few minutes, someone inside called 911, causing a second ambulance and a fire truck to arrive at the house.
Article continues below advertisement
The fire truck left, and Jean Kasem made an appearance . . . and chucked a pound of raw hamburger meat at Kerri, NBC News reports.