Is It An Insult Or A Compliment? Caprice Bourret Responds To Viewer Comment Claiming She's The British Kim Kardashian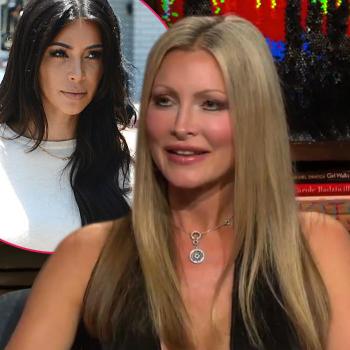 When asked on Andy Cohen's Watch What Happens Live if she knows that she's the "Kim Kardashian of the U.K.," model Caprice Bourret didn't know if she should be offended or complimented. (Hopefully Kim doesn't watch the clip)!
A viewer posed the question to Bourret, who then immediately responded with her oral résumé that includes everything from modeling to stage acting – she even played Maureen in Rent. The British model and lingerie designer attributes her wide variety of work on the need for change.
Article continues below advertisement
"You kind of have to evolve, otherwise you just kind of go and start working at Blockbuster," Bourret said.
To which Cohen quipped, "And we all know what happened to Blockbuster!"
So, do you think she was saying she ISN'T the Kim Kardashian of the U.K.? Sound off in the comments below!