Exclusive
Brittny Gastineau 'Scared' & 'Traumatized' After Dust-Up With Boyfriend — Source Claims 'There's No Truth To' Rumors She Was The Aggressor In Attack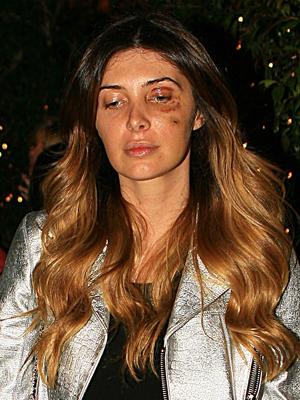 Brittny Gastineau, boyfriend beater? Almost as shocking as the sight of the actress with a black eye out in L.A. on Tuesday night was the subsequent claim from her boyfriend's attorney that she had actually been the aggressor! But now a source close to the reality star and Kardashian BFF tells RadarOnline.com exclusively that such claims are false, and Gastineau is "scared" and "traumatized" after the incident.
Article continues below advertisement
Attorney Michael Goldstein spoke out on behalf of Gastineau's boyfriend, Marquis Lewis after she was spotted out with a black eye Tuesday night, insisting the couple were both aggressors in the fight.
But a source close to the Kimye wedding guest insists, "Everyone that knows Brittny can attest to the fact that she is a kind-hearted, compassionate and loving soul. She wouldn't harm a fly!"
"Domestic violence is a serious crime and it is a tragedy when a defenseless woman is brutally beaten by a man twice her size," the source continues. "…The only thing more deplorable than a man laying a hand on a woman is to suggest that she caused it or deserved it."
And although the reality star and jewelry designer was spotted making the rounds of Hollywood hotspots Craig's and Mr. Chow Tuesday night, the source says, "Brittny is still very scared and traumatized. She has a long road to recovery after sustaining very serious injuries. Friends have been encouraging her to get out of bed and take her life back and invited her to dinner last night."
"She's on the road to recovery," the source says, "but it will take some time to heal."