'Not The Brightest Lightbulbs': African American Police Officer Infiltrates Colorado KKK Chapter To Gather Intelligence, Becomes Leader!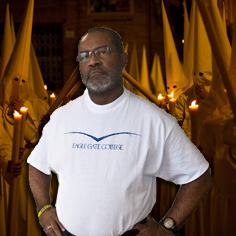 In an unlikely twist of events, an African American policeman from Colorado not only successfully infiltrated a chapter of the Ku Klux Klan, but he also became its leader.
After seeing an ad that was looking to recruit members for the KKK, officer Ron Stallworth wanted to take action.
"As an intelligence detective, it was my job to work with subversive groups, and they are a domestic terrorist group," Stallworth told The National ENQUIRER. "I couldn't let them advertise without responding. They were a threat to my city!"
Article continues below advertisement
While talking to members of the local chapter over the phone, Stallworth admitted to The ENQUIRER that he used "their buzzwords of hate" to convince them that he was white and that he shared their beliefs. He even told a Klansman that he was furious with his sister because she was dating a N-word.
"You're just the kind of person we're looking for," the Klansman told the undercover cop.
When it came time to attend meetings and make appearances, Stallworth had a white co-worker assume his identity. Although they had everything under control most of the time, there still were a few scary run-ins.
Stallworth was once working on security duty (as himself) for Grandmaster David Duke and two other Klansmen whom he'd spoken to on the phone. "I was worried they might recognize my voice," he told The ENQUIRER. Fortunately, they didn't.
Once Stallworth completed his undercover mission with the KKK, he came to some startling conclusions.
"The KKK are not the brightest lightbulbs in the socket," he told The ENQUIRER. "We should challenge them at every opportunity. We can, as a people, defeat them."