Exclusive
Amber Heard Has Developed 'A Strong Stepmom Type Bond' With Johnny Depp's Kids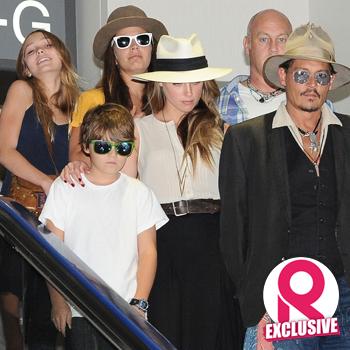 Johnny Depp's fiancée Amber Heard has developed "a strong stepmom-type bond" with his two children, RadarOnline.com has exclusively learned.
According to a source close to the situation, Depp's kids from his relationship with Vanessa Paradis — daughter Lily-Rose, 14, and son Jack, 12 — are getting cozy with his soon-to-be-wife, Heard.
"It took Johnny a long time to get to this point with the kids, but this spring has marked Amber becoming a true part of the family and being involved with the upbringing of Johnny's kids -- albeit on a somewhat limited basis," the source said. "Amber sees Johnny's children nearly every weekend Johnny does, especially when they're in Los Angeles and not working on sets."
Article continues below advertisement
In fact, Heard was seen having lunch and shopping with Lily-Rose on a girls' day at L.A.'s Fred Segal in February. And the age gap between them — just 14 years — is nine years less than that between Heard, 28, and Depp, 51!
The source also revealed with a fall wedding expected, Depp has worked hard to join the people he loves the most.
"Johnny has gotten in the habit of setting up remote weekend getaways with Amber and the kids, and usually he will lease a helicopter and have them all ferried to a remote location or resort in Southern California," the source said of the A-list stalwart.
Recently, Depp has been filming his Whitey Bulger biopic in Boston while Heard has been shooting The Adderall Diaries in New York.
"When they're not on set, Johnny stays close to town, but he doesn't just want to do the usual activities with the kids like their mom Vanessa does during the week," the source said. "He's very much about showing them an adventure and a good time, and Amber has been 100% behind this all the way."