Uma, Quentin Now Reportedly A Thing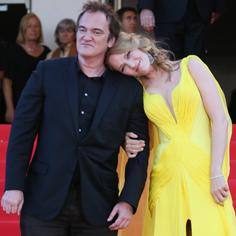 Uma Thurman has been Quentin Tarantino's muse for two decades—but now she's more, sources tell Us. Thurman found herself single again when she broke off her engagement (for the second time) last month, and now she and Tarantino are reportedly dating. "They had a thing and got together again recently," says one source. "He's loved her for years." Specifically, Thurman, 44, and Tarantino, 51, shared a villa at Cannes this year, and walked the red carpet together at Saturday's closing ceremony.
Article continues below advertisement
"There has always been an attraction," says another source. "She has indulged from time to time, and that's how their relationship has always worked" since Tarantino first directed her in 1994's Pulp Fiction.