Exclusive
Real Life Peter Parker? Emma Stone Is Desperate To Break Spider-Man Boyfriend Andrew Garfield Out Of His 'Socially Awkward' Web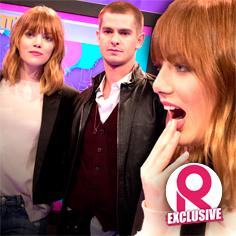 The Amazing Spider-Man 2's Emma Stone is still head over heels with her co-star Andrew Garfield but his "social awkwardness" is bugging the movie beauty, RadarOnline.com has learned.
"Emma and Andrew are a serious couple, now deep into a three year romance and even talking about having a family together," a source confided.
"But Andrew's increasing social awkwardness is a big issue for Emma. It's like life imitating art with Andrew as the nerdy Peter Parker type for real!"
Article continues below advertisement
According to the insider, British-born Garfield, 30, has failed to click with the Los Angeles friends of glamorous 25-year-old Stone, who always wows on the red carpet.
"Because Andrew doesn't connect with Emma's pals, they spend a lot of time in New York City with just each other and the occasional visitor from Andrew's school days," the source revealed. "Emma is shocked that Andrew doesn't have a single close friend who is an actor or filmmaker."
Now Stone, who has been dating Garfield since 2011, wants him to change!
"Andrew is very focused on keeping Emma happy but for this to become a marriage and a family, she needs him to branch out and come out of his shell a bit.
"Emma loves him but he's painfully shy and she wants him to open up."