A Fairy Tale Come True — Are Sandra Bullock And Chris Evans Dating?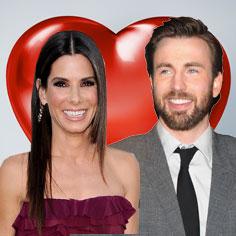 Is Sandra Bullock finally ready to move on after her ex-husband Jesse James' embarrassing infidelities?
New reports claim the actress might now be dating hunk Chris Evans.
"They haven't put a title on it, but they really like each other," a source told E! News.
After Bullock, 49, and Evans, 32, shared dinner at Cecconi's in West Hollywood with Chelsea Handler in May, whispers of their budding relationship began spreading rapidly.
Article continues below advertisement
"They are not in a relationship, but they are definitely hanging out and are in the early getting-to-know-each-other phase," the source added.
But this fairy tale gets even sweeter — the Captain America actor has had a serious childhood crush on the charming actress.
In 2012 after meeting Bullock for the first time, Evans told Playboy, "I used to be in love with Sandra Bullock when I was growing up. Sandy B. was my girl. I remember seeing Speed when I was in seventh grade and just thinking, 'That's her.'"
If this works in Evans' favor, his childhood dream could come true!