Exclusive
Walking A Straight Line: Reese Witherspoon, Jim Toth's Drunken Arrest 'Gave Them A Huge Wake-Up Call' To Clean Up Their Act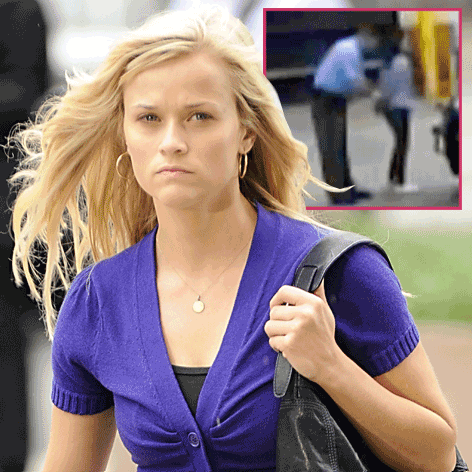 Reese Witherspoon and her husband Jim Toth are now walking a straight line a year after their shocking arrest, a source close to the couple has revealed to RadarOnline.com.
"Reese and Jim have stabilized their out-of-control home life and are telling friends that their arrest was a huge wake-up call and the best thing that could have happened to their marriage," the source added.
As RadarOnline.com previously reported, the Walk The Line Oscar winner crossed the line big time after her husband Toth was arrested on suspicion of drunk driving outside Atlanta in April 2013. Trying to get her agent husband off the hook, Witherspoon then delivered the most hated celebrity line ever to the police officer, screaming, "Do you know who I am?"
Article continues below advertisement
The star got arrested for disorderly conduct and obstruction, and both she and Toth were taken to jail. Witherspoon later publicly apologized, saying, "I clearly had one drink too many."
Toth pleaded guilty and was ordered to complete 40 hours of community service, an alcohol-education program, and one year of probation while Witherspoon pleaded no contest and was fined $213.
"Reese lost her good girl image, but Jim also lost a lot of respect and good standing with his work colleagues over the incident," the source noted.
"After some soul-searching, they resolved to change their lives -- and are now on a major fitness kick, have cut way back on the booze, and Reese has curbed her spending after finding out she blew $60,000 on clothes in just one year!"
Although the actress isn't hurting for money, she's decided to focus on building her small art collection instead, "which is something that helped her bond with Jim early in their relationship.
MORE ON:
Reese Witherspoon
Article continues below advertisement
"The thing that blew Jim away about Reese is how cultured and educated she is, not her abilities as a glamorous movie star. Reese has got her art bug back again and wants to fill their home with treasures that she and Jim can enjoy and that she can pass on to her kids."
The source said the Legally Blonde beauty, who has daughter Ava, 14, and son Deacon, 10, from her first marriage to actor Ryan Phillippe and son Tennesse, 17 months, with Toth, 43, "is getting a little tired of trying to look perfect and current every time she steps outside. Jim neither pressures her to be that way nor particularly cares about Reese being a fashion icon. He loves her for her mind.
"They're in a much better and solid place now and everyone's breathing a sigh of relief because it was touch and go for a while there and her drinking WAS getting out of control," the source said.