Exclusive
'Real Housewives Of Beverly Hills' Star Lisa Vanderpump Should Leave Hit Show, But Will Not, Declares Close Pal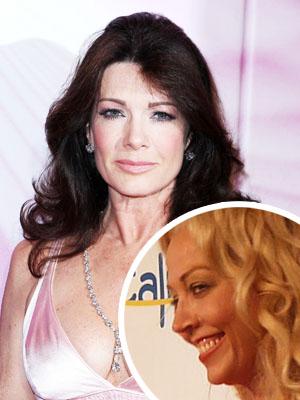 It is a hottest topic of conversation with reality TV viewers at the moment - will Lisa Vanderpump stay on from The Real Housewives Of Beverly Hills?
Vanderpump has refused to confirm if she will return to the series after a bitter bust-up with costar Brandi Glanville at the end of the last series.
However close friend Liz Fuller, a model and actress, believes that the restauranteur must get out after the abuse!
Article continues below advertisement
"I think she gets $250,000 a show. It is a lot of money. I love her, but I don't think the Americans warm to her as quickly as we do.
"She is fabulous. I love seeing a British woman on the show and I like seeing it revolve around her.
"I think it would be a shame for Lisa to go. She has been at the pinnacle of that show.
"She had a hard time and I really think they all ganged up against her."
Faked Scenes, Lies & Payoffs – The Ultimate Guide To Reality TV Shows
Article continues below advertisement
Fuller spoke out for her pal as she attended the launch party of top Brit photographer Dawn Bowery's book California Dreaming: Real Life Stories of Brits in Los Angeles. Award winning Bowery has shot a string of famous Brits in Hollywood at home, work and play for her first book.
Fuller said that US television execs are perhaps giving Brits a hard time.
"I think there is a backlash with the Brits right now. Simon Cowell is out, Steve Jones got pushed..it goes in cycles. We were everywhere once."
Article continues below advertisement
"But the way the show was in the end, the last episodes, that is not something I would care to repeat."
Bravo has not spoken to her about the petition or fans' fury at Glanville.
Neither have they confirmed details on new deals, but is unthinkable for fans that show stalwart Lisa - who has appeared in all 120 episodes - would not be on screen!
As RadarOnline.com reported, newcomers Joyce Giraud and Carlton Gebbia could be out too, but Lisa revealed no decisions have been made: "I am not signed on, and I don't know whether I am staying and don't think any of us do right now.
"Everyone wants to stay, but I don't know. I have a lot to consider I am opening a new business, I will let Bravo make the decision and offer and see where we go from there."