Nicole Kidman's Grace Kelly Biopic Slammed By Monaco Royal Family & May Be Dumped From Cannes Film Festival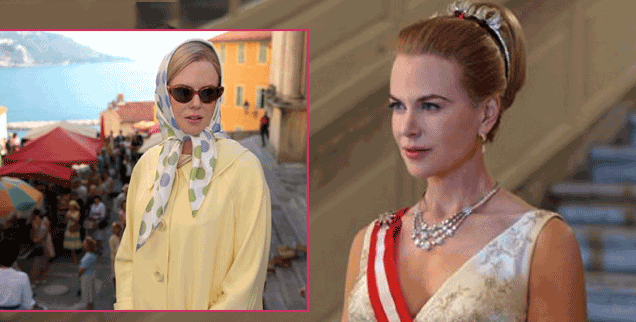 On the eve of her film's planned premiere at the Cannes Film Festival,
Nicole Kidman isn't getting any love for her Grace Kelly biopic.
The Philadelphia girl turned Hollywood golden girl turned real-life princess -- thanks to her marriage to Prince Ranier in 1956 -- was killed in a car crash in 1982.
Her story, with Kidman in the title role, would seem to be a natural for the big screen, but now Grace's royal heirs are slamming the film, and the director and distributor are battling over the final cut, with the possibility Grace of Monaco will be dropped from the prestigious Cannes lineup.
Article continues below advertisement
"The Prince's Palace would like to reiterate that this feature film cannot under any circumstances be classified as a biopic," said a statement issued in Monaco.
"The trailer appears to be a farce and confirms the totally fictional nature of this film. It reinforces the certainty, left after reading the script, that this production, a page of the Principality's history, is based on erroneous and dubious historical references.'
Ranier and Grace's son, Prince Albert, took over the municipality's throne in 2005 following the death of his father. They also had two daughters, Princesses Caroline and Stephanie.
All of them are said to be outraged by Kidman's film.
"The Princely Family does not in any way wish to be associated with this film, which reflects no reality and regrets that Its history has been misappropriated for purely commercial purposes," added their spokesperson.
Article continues below advertisement
The film has been in limbo for several months because of a dispute between the director and super-producer Harvey Weinstein, whose Weinstein Company was set to distribute Grace of Monaco in the U.S.
Weinstein wants changes made to the final cut, Variety reported this week. He wants more focus on Kelly's Oscar-winning Hollywood years and he's threatening to drop distribution if that doesn't happen.
Without his backing, the film will likely be dumped from the Film Festival, further stalling its efforts to get into theaters,
Kidman is so far staying mum on her film's multiple controversies.