Exclusive
Sex Abuse Accuser Wade Robson Wants To Review Michael Jackson's Molestation Criminal File -- King Of Pop's Estate Legal Team Says 'Beat It'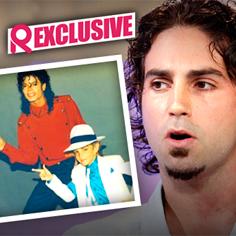 The estate of Michael Jackson and lawyers for sex accuser Wade Robson, are in a legal dogfight regarding the choreographer's request to have access to the late King of Pop's Santa Barbara molestation criminal file, RadarOnline.com is exclusively reporting.
Robson, a dancer-choreographer who testified on behalf of Jackson in the singer's 2005 sex abuse trial, changed his tune last year, claiming that Jackson allegedly molested him for seven years when he was just seven years of age.
Article continues below advertisement
Robson, now 31, filed a claim with the Jackson estate asking for money—but the late singer's legal eagles say he's waited too long to do so!
According to Robson, when he was a boy, his sister slept in another bed just feet away at Neverland Ranch in Santa Barbara, Calif. as the singer performed sex acts on him and forced him to reciprocate.
Now lawyers for Robson have filed blistering legal docs in response to opposition papers filed by Team Jackson over the request to review the Thriller singer's criminal file, RadarOnline.com has learned.
According to docs filed by Robson's attorneys, the subpoenas served to Santa Barbara law enforcement "seek police reports, witness statements, and other information which directly relates to Wade Robson's allegations against Michael Jackson, and which are necessary for Wade Robson...the subpoenas are entirely relevant to the subject matter involved in the pending action and reasonably calculated to lead to the discovery of admissible evidence. As such, Wade Robson is fully entitled as a matter of law to request these materials in order to support his claim."
Article continues below advertisement
Read Robson's Shocking Claims In The Court Documents
However, Team Jackson contends in their legal documents that Robson has brought his claim too late: "petition and evidentiary hearing thereon are solely about the timeliness of Robson's alleged creditor's claims and not about the merits of the claim. Thus, Robson is not entitled to take discovery in these proceedings in an attempt to prove the merits of his claims."
In the summer of 1993, Jackson was accused of child sexual abuse by a 13-year-old boy named Jordan Chandler and his father, Dr. Evan Chandler, a dentist. Although he later settled the case out of court for $22 million, Jackson's lawyers stated it was done without his consent.
Ten years after that claim, Jackson was arrested and charged with seven counts of child molestation and two counts of administering an intoxicating agent in relation to a different 13-year-old boy. Jackson was acquitted on all counts in 2005 after a five-month trial. The King of Pop died in 2009 at age 50.
Article continues below advertisement
Now, attorneys for Robson are pursuing his child molestation claim and have said in court documents "it is…necessary for Wade Robson to establish that he was sexually molested as a child, and that this abuse rendered him psychologically incapable of filing within the limitation period.
"Proof of childhood sexual abuse, sexual trauma and threats will be presented by direct evidence, corroborating evidence and evidence of Michael Jackson's intent, plan, habit, and custom, which in the case of a pedophile, have a unique signature. Wade Robson's subpoenas are reasonably calculated to lead to the discovery of admissible evidence."
In closing, Robson implored the judge to allow access to Jackson's criminal files to "show that Michael Jackson had a distinct and repeated modus operandi which is often the signature of serial pedophiles…Any evidence that Michael Jackson sought opportunities for his alleged crimes and planned and prepared them in a habitual, customary manner (or that Michael Jackson did not reasonably and in good faith believe that any of his alleged victims consented to sexual acts) will be admissible, and the subpoenas are reasonably calculated to lead to the discovery of such evidence."